Saturday morning I pulled on my colorful socks, an 80s style headband, and my Color Run shirt. Then I headed upstairs and woke up a little boy with a cheer, "Wake up! Surprise! We are going on a date!" He was groggy and wanted to go back to bed. Total confusion on what was going on. Then he read my shirt and realized what our date was going to entail. Last year his older brother got to run it, this would be his year.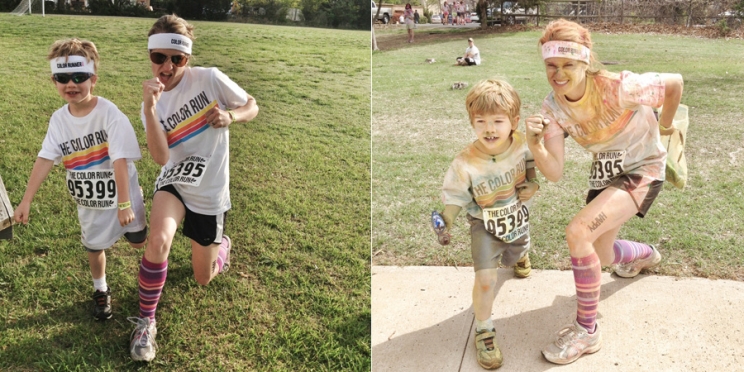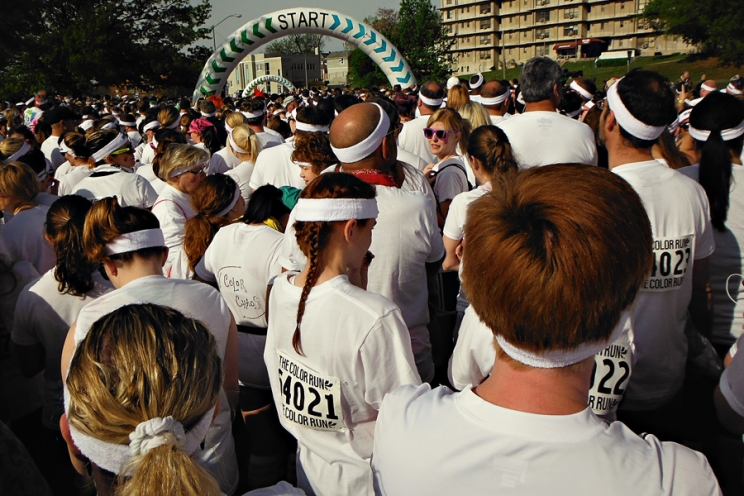 There were so many people. When we first started running he grabbed my hand and we ran together. Melt my heart. His older brother would have never held my hand running. I soaked it in as long as he held on.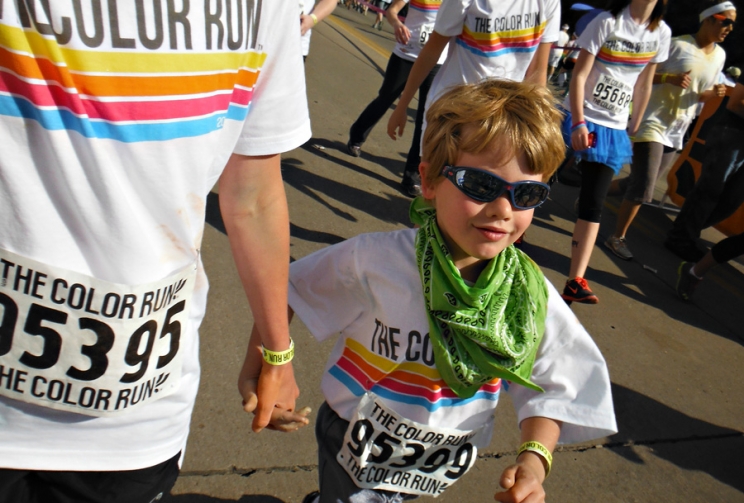 It was a birthday surprise for him. Another surprise was one of his good friends was running it too.
The bandana was to cover his mouth and nose when the color was thrown. The powder is supposed to be 'safe', but we tried hard to keep it just all over our outsides and not in our insides! The boys ran almost the whole 3.1 miles. It was a slow pace with stopping to roll in the color, but they did awesome!
He found an unmanned barrel and helped himself. Then promptly covered me in yellow.
The orange is on my camera, not a haze, but it looks cool nonetheless.
They joined in on the dance party at the end. The yellow in his hand ended up on my camera and face.
At the very end there is a big color throw where everyone tosses their color powder in the air. It looks more amazing from a distance. Close your eyes. Your mouth. Your nose. Don't breath until I'll say!
We went out to lunch afterwards. He thought I was crazy when I said we were going to a restaurant covered in color. He got pretty pumped when he realized the whole place was full of other color runners. I'm pretty sure he thought it was the best mom/son date ever. I might have to agree. His younger brother is anxiously awaiting his turn next year.
** I shot these with a FujiFilm XP50. It is water/shock/dust/freeze proof – it is the camera the kids typically use. Last year I used my iPhone with a LifeProof case, the case did not handle the powder well.