I am gearing up to enjoy a wonderful week with family and I hope you are too. Last year I posted a few tips for present opening pictures (you can read it here).  Part of that post focused on really being IN THE MOMENT with your friends and family. It is so easy for me to spend an entire evening behind the camera capturing it instead of living in it. I'm trying hard to set my camera down this week.
Here are a few glimpses of some of what has been going on around here (no hospitals stays included!):
Salt dough ornaments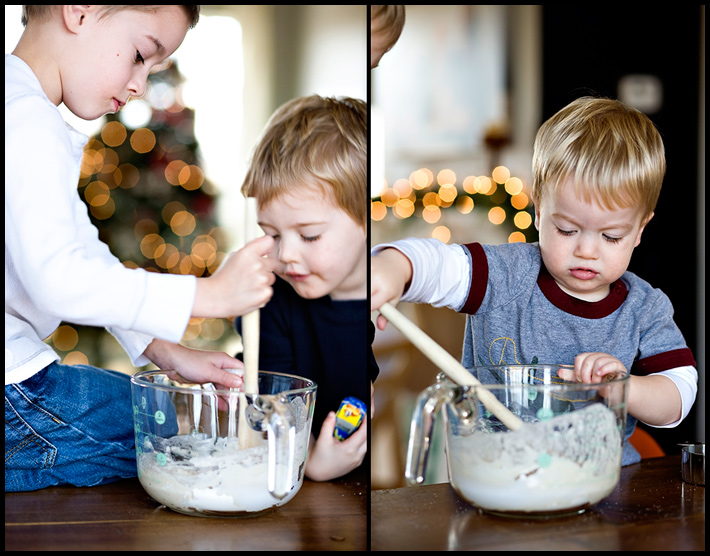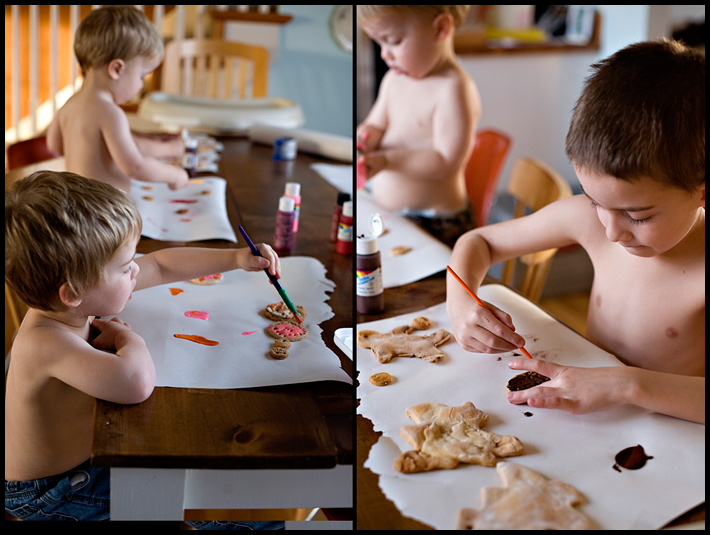 Christmas Performances
He focused on me the whole time – made my heart smile.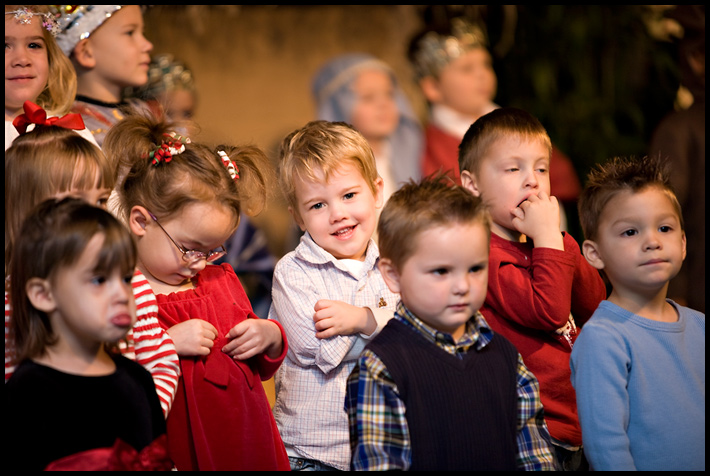 He even looked at me while he picked his nose. That didn't make my heart smile.
I bought supplies to make gingerbread houses (out of graham crackers). I envisioned 3 cute little houses. The boys were all working on their own and I stepped out of the room. I came back to find that the Teddy Graham Bears looked all crazy. I asked what happened and got this response from the older 2 boys, " There was a war. Some bears lost their legs. These bears fell on the roof and landed on their heads. This guy stepped on a bomb and lost his arm." So much for the cute little houses I dreamed of. After all, "there was a war."
Another Christmas Performance. He was the Angel Gabriel and had a little solo. This is just before he started to sing…he was a little giddy. I realized about 30 minutes before we left the house that he didn't have any type of "Christmas-y" outfit or clothes. I was WAY BEHIND on laundry and the only non t-shirt he had was the white oxford he wore to school that day. So I figured that was fine…until he ate a green Skittle off his gingerbread house. That tiny little Skittle left a long drool mark all down his white oxford. So, what is a mom to do with a performance starting soon and 4 kids to get ready by herself? Throw a t-shirt over the Skittle covered white oxford – that's what she does. And when her sister leans over during the performance and says, "Nice Christmas outfit Ashley". She smiles and says, "I think he looks pretty cute."
Pure Delight.
My favorite decoration – Baby Jesus asleep in the hay. Made by Biggest Brother when he was 2.
He is crazy about her.
She got some new shoes. You'll be seeing more of these soon…I am working on some pictures for Gracious May. They are the cutest little things ever.
Army Men pj pants. Shirtless. Cowboy hat. Cute toes. My boy.
Hope you are enjoying your week!
Google Reader does not pick up this blog…don't subscribe!