Since all the boys have birthdays in March and April, the grandmas wanted to get them apple trees for their birthdays. We've been waiting for a warm Friday to head to our favorite local nursery. I figured I'd take advantage of having Chris along and being a fun spot by getting Littlest Brother's one year pictures while hunting for our trees. I've wanted to do pictures out there for a while, but it is hard to convince people to try something so "different". To me a nursery is the ideal portrait location, tons of open shade and tons of color. So my baby boy's birthday provided a great opportunity…not typical one year pics, I know. I have convinced a friend to let me do her daughter's one year pics out here…so many pretty pinks and reds…can't wait.
Since many of you liked seeing the larger view of where I shot Biggest Brother's 5 year pics, I thought I'd do the same with Littlest Brother's..
Spot 1: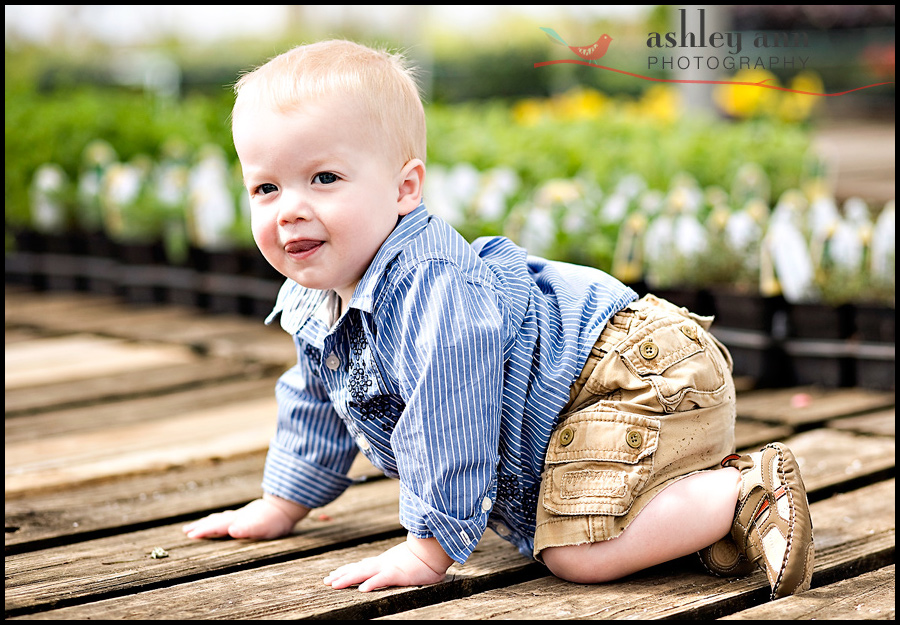 Spot 2:
(Yes, that is the older boys with dart guns…it was a Friday afternoon, the place was pretty empty and they were hunting for lions)
For yearly pics I like to have a few that show where they are developmentally – especially the first 2 years.
As a 1 year old, he is so interested in EVERYTHING…grass being a big one.
Spot 3:
I love these 3 pictures. They show how little he is…peeking over a planter, up on his tip toes to look in….
He stands good on his own, but just prefers not to. The second picture here makes me laugh, you can tell that Chris just let go of him by the fact that his arms are still up.
Spot 4:
And just to be realistic, a few shots that show what was really going on in between just about every picture I took.
What is it with kids this age thinking everything is better if it is put in their mouths?! Dirt…mmm, mmm….good.