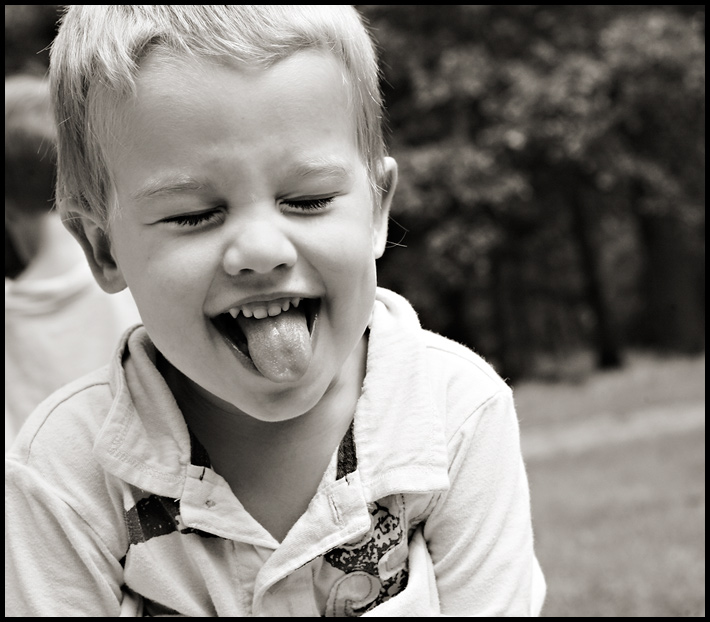 Now wasn't that a great picture to start your Monday off with? I think things are finally back up and running correctly with my hosting company…so I will share some vacation pictures. I debated posting all these…I kept thinking of other blogs that would post this many and other blogs that would never post personal vacation pictures…and so on and so on. Don't you hate getting caught in the comparison game? Maybe no one else ever struggle with it, but it is easy for me to get distracted by watching other people.  Wow…none of that relates to my vacation! Here's some of my favorite pics anyways!
Baby sister in the wrap…this is the view I had 75% of our vacation.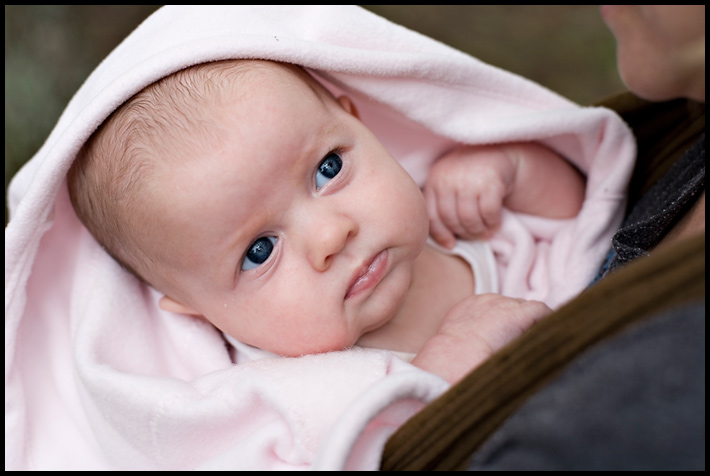 Our vacation was in a little cabin on at a campground by the lake. During the summer the cabins and grounds are filled with kids and teenagers there for summer camp. Part of the summer camp experience is a ropes course. For my boys it was an Indiana Jones wonderland.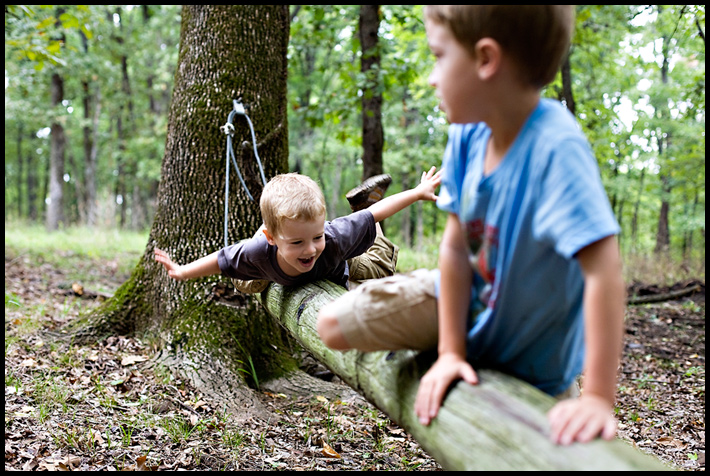 Yeah, it's pretty nice to have boys…even when they have tree mold down the front of their shirts.
On the campgrounds they have an old plane held up in the air by metal stands. You can climb up inside and it kind of looks like you are flying. For you Lost fans…all I could think while I was inside was "I feel like Charlie. If I find any ceramic Mary statues I will know I am in trouble." Chris told me that was morbid – espcially since Baby Sister was tied to me in the baby wrap.
Recently his sister was crying in the car. He leaned forward and said, "Please STOP. I don't want to hear your whining anymore!"
He surely didn't say that because he hears it several times a day…my kids never whine or pout.
So I attempted a picture of all 4…not happening so much.
Would be much better if their sister could at least sit verses lay in a blanket on the dock.
Welcome to the Gun Show.
Shirts are way overrated.
This is his '9 months pregnant and my back is killing me' pose. He learned that one from me.
We drove around the lake just to see what was there. We saw a sandy beach and I asked the boys if they wanted to get out…we had one towel (already dirty), no swimsuits, no change of clothes. Evidently I wasn't thinking…sand + my boys = sand fights. It's kind of like 2+2=4.
The girls stayed out of the fight. (I can say 'girls' how funny is that!)
It's all fun and games until someone gets sand in their eyes.
The babies were cleaned, the big brothers had to use great self control to fight the urge to get Mommy and Littlest Brother sandy again.
Our vacation. It was a boy outdoor wonderland…dirty, rainy, muddy, rustic, messy. No cell phone coverage, no internet, no computers. I'd say it was a peaceful stay at a cabin by the lake, but I have 4 small children…it was a stay at a cabin by the lake

And we loved it.