So I have gotten a lot of emails asking questions about my 'studio' space and wanting a photo tour of my craft room. I smile whenever someone asks about my craft room. If there is one thing Chris could add onto the house right now, he'd probably add on a creative studio space for me. He knows how much I'd love it and I think he'd kind of like to sit down for dinner at a table that doesn't have paint and Mod Podge splattered all over it.
My kitchen craft room
A bit scary, huh? Typically I am picking up so fast that everything just gets shoved in and the curtain closed. This is actually a bookcase we bought at a garage sale for $5.00 about 6 years ago. We added molding to the top and I made a curtain out of a vintage tablecloth to hide the disaster on the shelves. I have good intentions of keeping it organized, but obviously that isn't happening. A creative mess. Someday it will be a cutely organized creative mess. Someday as in when the boys are older.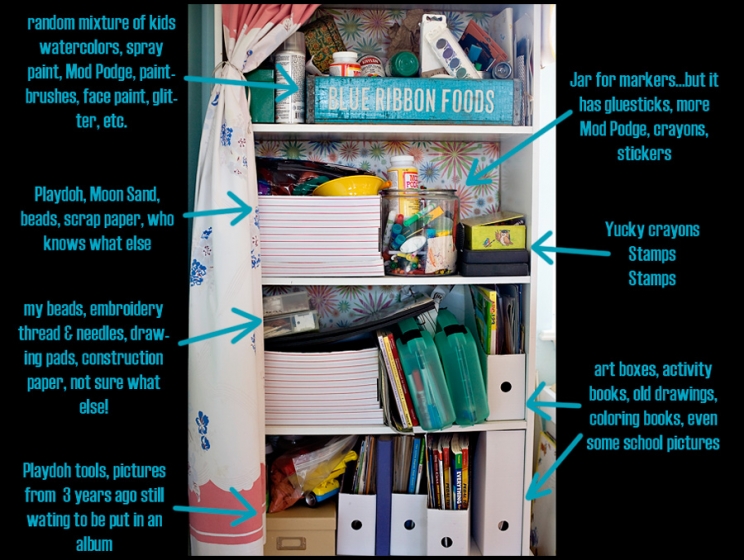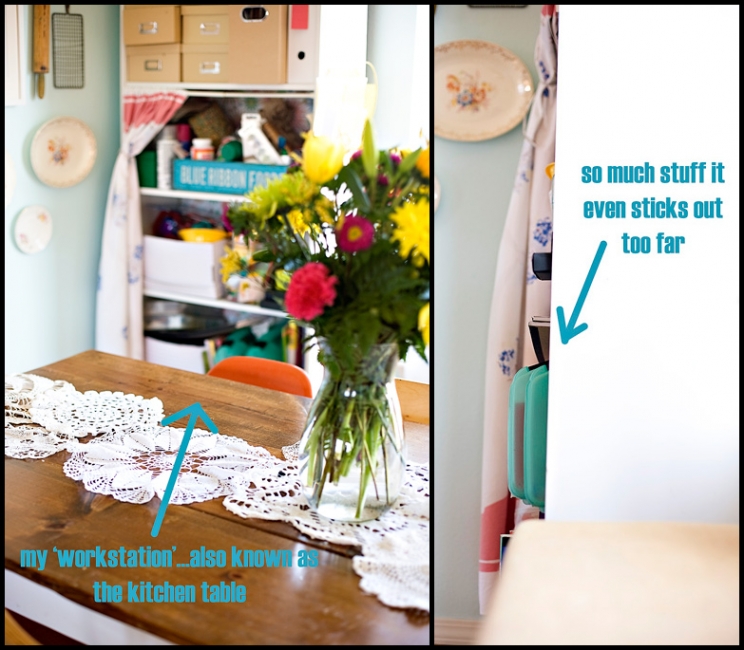 So half my creative stuff is downstairs in the kitchen. The other half is upstairs in my daughter's room my sewing room.
My grandpa built me a craft armoire like this one several years ago. To fit it into this space we had to remove the crown molding and take off the doors. A table pulls out for sewing, but to sew I have to move the ladder with the quilts and the crib. The sewing machine is about a foot from the crib which means I can't sew during naps or at night when she is sleeping. Needless to say that is why I Mod Podge more than I sew! I keep everything fabric related in this area.
Is this an ideal set up…no. Is it convenient….no. Does it work for what I have available right now…yes. I think in most areas of life we make it work for what is really important to us. I'm making it work….and dreaming of having a space like one of these someday. (I am a pretty content gal, but I have to admit there was some major coveting going on seeing these beautiful craft rooms!)
Apartment Therapy's motherload list of Creative Craft Rooms
Apartment Therapy's second motherload list of Creative Craft Rooms
Soule Mama's Studio v.2
Heather Bailey's Studio
Karen Russell's Scrapbook Room/Office
Meg's Craft Room
There are so many more, but I am trying to stay on task with some projects this week, so I better stop. Do a google image search for "craft room" and just look at all the beautiful spaces that come up.
Google Reader stopped 'reading' my blog, don't subscribe.