So we've been members at our church for about 6 years and it seems like that long ago I began hearing about Kara P. and her super talent as a designer. I've wanted to meet her, but our paths just haven't seemed to cross. Well, finally over the weekend I had the chance to meet the real girl I've heard so much about…and I asked for her website address….and I went home and stayed up way too late looking through her posts. She was a finalist to be on Design Star this year, but narrowly missed it – a shoe in for the next season if you ask me. I am in no way a designer or even know the first thing about it, but I sure can spot designs I like. Here are a few tidbits from her site…
A few pictures from her blog:
She recovered this chair with a skirt…a skirt!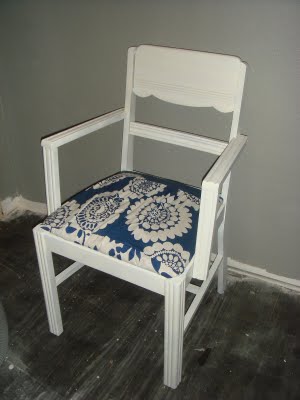 She created this outdoor space for her neighbors…Kara, if our neighbors move I'll let you know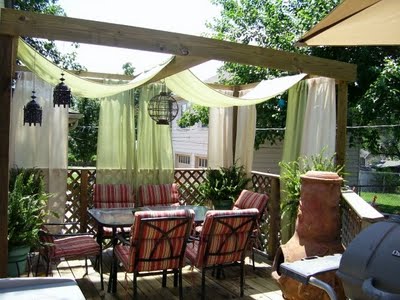 This is her backyard. The best part of this is the tiles below the table. At the Home & Garden show she noticed a vendor who had poured a stained and stamped concrete slab for their display. She then asked the vendor what they were going to do after the show….they were going to tear up the display and the tiles would head to the dumpster. With a little help from her husband and permission from the vendors she drilled up the slab and transplanted them to her backyard. Genius. Next year I am going to find some vendors to take advantage of!
I'm coveting her potting station.
Here's a glimpse at a room she designed…I love the black trim and incredible painting in the background.
Kara offers design services, you can find out more about them HERE