Well as promised here are the 'outtakes' from yesterday's post. I do love so many of yesterday's pictures, but honestly I love these pictures probably just as much. Yesterday you got a great idea of what my kids look like at ages 2, 3 1/2, 6 & 8 months…and maybe just a bit of their personalities. Today….well you'll see a lot of their personalities!
Camera on the ground of the dirty warehouse…propped up by a random cable…on the self timer….whatever works. Guess it is the girls this time not looking.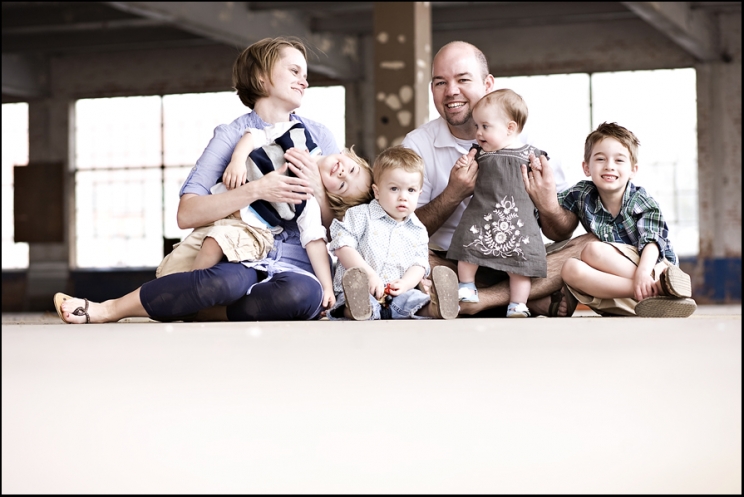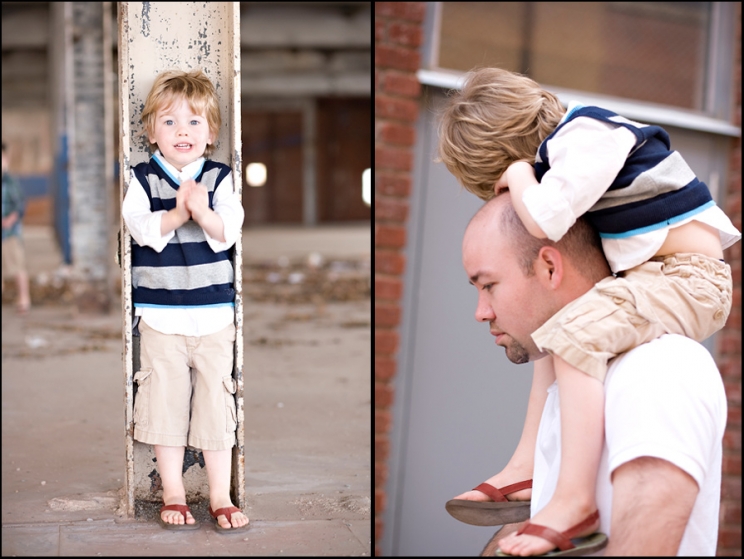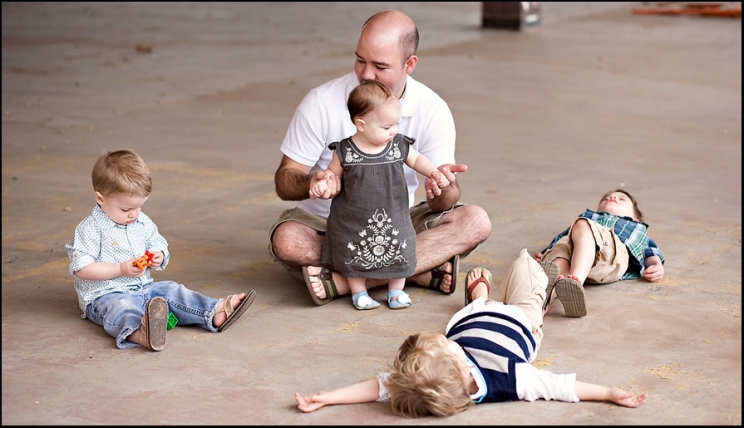 While we were eating (outside) there was a group of teenage boys extreme streetwalking (flips and stuff over the concrete walls). My boys soaked it in and then went off to try their own. Later that night Biggest Brother said to his great grandma, "Grandma, do you want to see my awesome moves? Because if you want to see them – I'll show you. They are AWESOME!" He then proceeded to randomly throw himself around on the ground. Awesome moves son. Awesome moves.
When I am driving and look in the rearview mirror…this is the face he flashes at me. He also uses it when he gets in trouble…to make me laugh. It works everytime.
Here are some answers to questions you asked yesterday:
1. Littlest Brother's outfit: Shirt – BabyGap, Jeans – passed down from both of his older brothers (I like the natural worn look), Flipflops – Target
2. Warehouse location: Ummmm….a few blocks northwest of Myriad Gardens. We just drove around and I don't know any streets. Sorry.
3. Camera Settings on the picture of the kids: I posted these above the photo, so look at yesterday's post.
4. An online DSLR class: Yes, I am hoping to do some next year…that is a bit of a wait, but hopefully it will be worth it
5. How to connect with kids when they aren't yours (for photos): talk about what they like! Be more interested in what they are saying than trying to get a pose. Listen and show them you are listening. Say silly things about what they are telling you…."So is Darth Vadar the one that wears the pink dress or the purple dress?" "Did Cinderella wear rolling skates to the ball?" For the preschool crowd – animal noises are bit hit…so is my off key singing….and whispering.
Gilded Bee Winners: to be announced soon