UPDATE: THE CONTEST IS NOW OVER. THE LAST COUNTING COMMENT WAS JENN'S: "I would have to say something as simple as pictures of my kids… that's what I love to look at."
.
.
Thanks for all the super kind comments on the boys 'very boyish' room yesterday. You had a few questions yesterday, so here are some answers:
1. How do you get away with no ceiling fan in Oklahoma summers? When we bought the house it did not have a ceiling fan in this room. Now with bunkbeds, if we put in a ceiling fan we would risk a boy losing a limb…the fan would be over the top bunk. We use a safe floor fan during the summer.
2. Where are all the Legos? All the Legos (and all other toys) are in a separate room – which will become the playroom. Legos are banned from this room. We've had a few hurt feet from jumping off beds and landing on Legos.
3. Now that you have two projects done (boy's room & table) will you start two new ones? Why "yes" of course. No, I will finish all current projects before adding to my list.
4. Is there a story behind the pencils? Nope, just a Target trip to find something cheap to fill that bucket light with!
5. What is the paint color? It is a very light gray. I am terrible at saving paint names. We used the bucket and I threw it away. Now I need to touch up places and can't! I will say I taped several tints of gray on the wall and went for the one that didn't have purple tones to it.
6. How big is the room? I used a wide angle lens to get everything in the picture…which makes the room look bigger. It is actually just 10ft x 13ft  with a 2 1/2ft x 4ft cut out (where the dressers are). The room basically just fits the beds…hence the reason it is only for sleeping and clothes. There is one small closet.
7. Will I be showing details of Baby Sister's onesie I posted a glimpse of earlier? Yes…but all it is just felt flowers stitched onto a $2.00 Walmart onesie.
8. Rachel noticed the aviator shade pillows: I got the idea from Urban Outfitters, but didn't want to spend $28.00 for something I could make (they are on sale now…buy them here). I used random white cotton to make the pillowcases. Then I free-handed the outline of the glasses…then filled it in with fabric paint (cardboard inside the pillowcase when painting).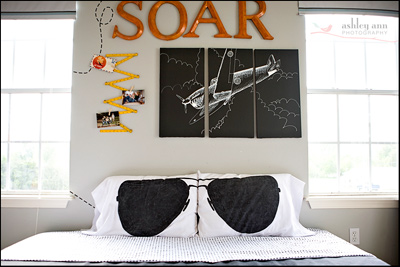 .
I'm so happy with how this custom artwork turned out from Simply Create. I had each boy do three things: hand print, family portrait, watercolor painting. I love how by putting all three boy's artwork on one poster it shows their age differences. For instance, Biggest Brother drew our family as we looked that day. Big Brother drew us in his tummy because on that day he was hungry and decided to eat us.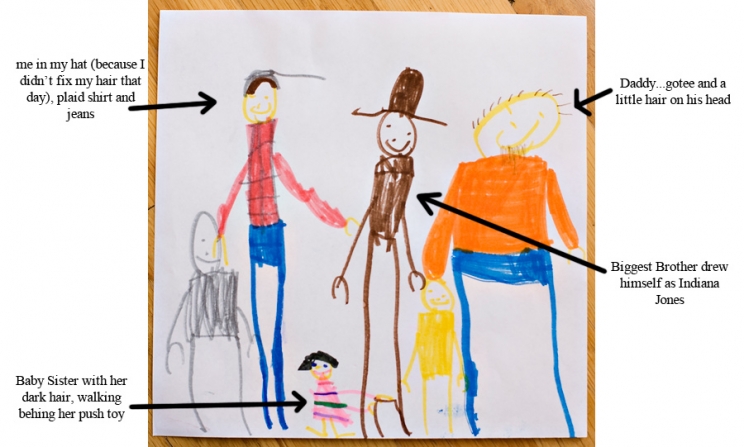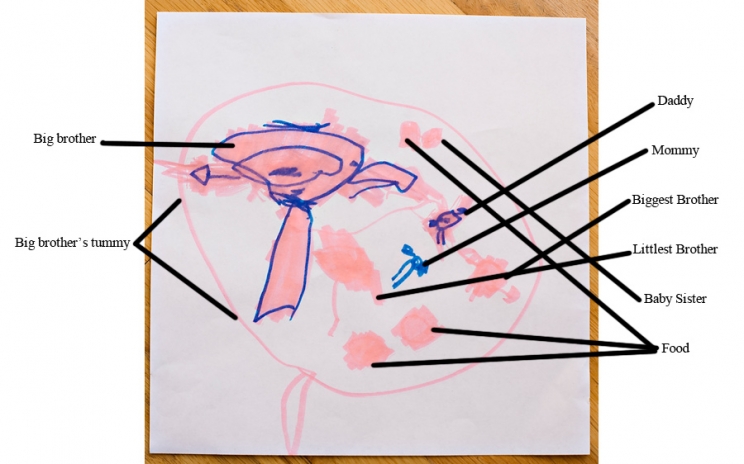 Now the exciting part about this post for you is that Simply Create is giving away one 11×14 print to one of you!
Here are some ideas for what you could do with a print:
Mother's Day Gift
Father's Day Gift – this would look great in an office
Grandparent's Day Gift
You could do it with babies, kids, teenagers, even adults….it is going to look sharp with any of those. Don't just think kid artwork…there are endless possiblities!
Giveaway Details:
Prize is one custom 11×14 print from Simply Create
Contest ends Monday, April 26th at 8:30pm US Central
Winner chosen at random, using Random Number Generator
One entry per person
To enter: In the comment section tell me something about the room you grew up in or a favorite work of art made by yourself or someone you know!
For those of you that can't wait…Simply Create is offering a Buy One Get One Free on the 11×14 prints for the next three weeks. This offer expires May 12, 2010. To redeem this offer, mention Under the Sycamore in the notes to seller when making your purchase. If you want the poster to be ready in time for Mother's Day, your order will need to be placed by Thursday, April 29th, 2010. Buy One Get One Free….keep one for you and give one as a gift….give one for Father's Day and one for Grandparent's Day…perfection!