I'm a spring and summer girl, but each fall I begin to think I like the fall. Well, I do actually like the fall – at least when the low is above 60. I like how cute my boys look in jeans and clothes…as opposed to going shirtless in swimtrunks all summer long. They look cute dressed. But the pile of laundry from all those fall clothes is not so cute.
We ventured over to grandpa's 'farm'….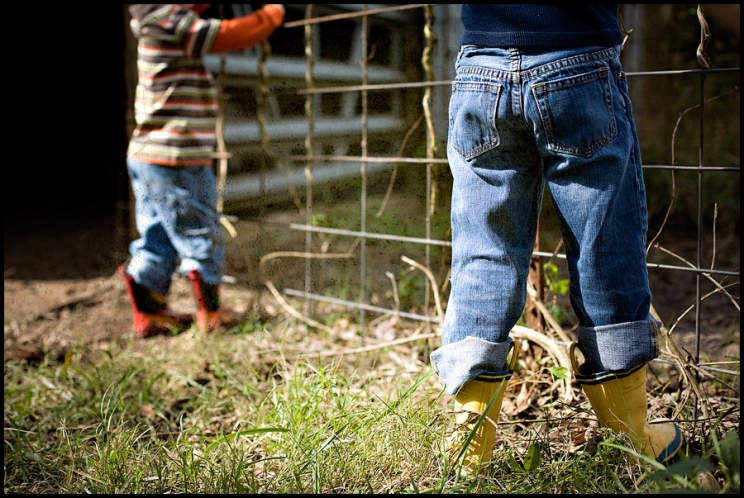 Biggest Brother protected me from the goats with Grandma's stick.
If it had been summer I would have let him strip down to his undies and fully enjoy all that great mud. Another downfall of cold weather – can't hose them off.
Always climbing on something.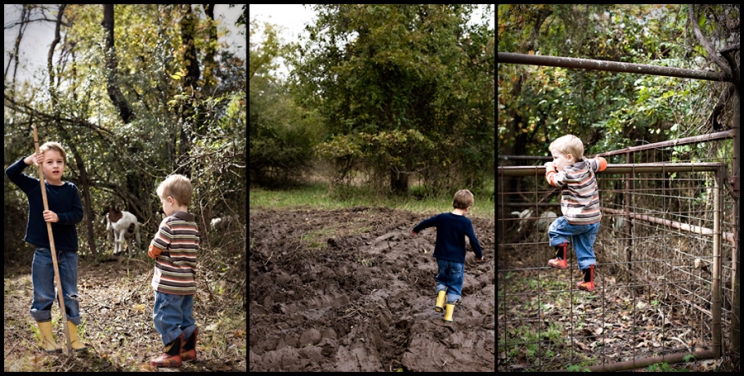 The real reason we were tromping around was to find the baby goats. If this 'smile and say cheese' picture was the only one I had of Big Brother with the goats I would have missed pretty much the whole story of his time there.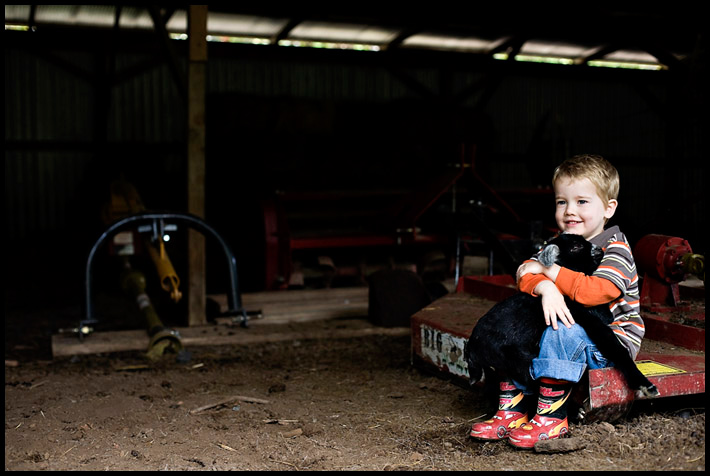 I would have missed his tender, tender heart towards this baby goat.
I would have missed the joy of when Grandpa placed the goat in his arms and the contentment he had just cuddling it.
I didn't know baby goats were so cute.
I also would have missed the way his little heart broke when that baby goat was crying "MAAAA, MAAAA" for its mommy.
(Yes, I am making that goat noise aloud as I type

)
And I would have missed him singing, "It's okay baby goat, I have you. It's okay." And the goat calming down in the arms of my son, The Goat Whisperer.
He cried the first time I told him he couldn't bring the baby goat home. I asked him where it would sleep. He said, "In my bed cuddled with me." The other times he has gone to visit the babies they have been asleep in the hay. He climbs up and lays down with them…and would stay there for hours if I let him. I asked him if the baby goat was cuter than his baby sister. He said "Yes, the baby goat is cuter because it is smaller." Gonna have to work on that.
Photo Tip: Don't get so caught up in trying to get your kids to look and smile at the camera….you might just miss the best pictures.
Post update:
For some great DIY projects visit the link below…I added my felt flower headband there today.