UPDATE: The contest is now closed. The last counting comment is ae's "sunshine." Winner to be announced soon.
In less than a year's time I have gone from not owning a sewing machine to sewing ruffles on everything. What happened to that girl that was shell shocked about having a girl in her house? She's not here anymore! Just to refresh you, here are some of my ruffle projects over the last 8 months…click on the title to find a link to the original post:
Ruffled Amy Butler pillow for my daughter's nursery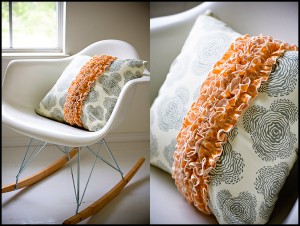 Ruffle Bottom onesies…man oh man did her little newborn bum look cute in these!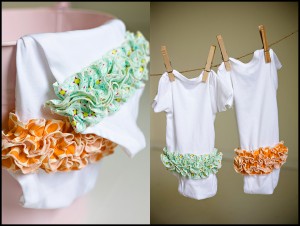 T-shirt fabric ruffled pillow. The easiest thing ever to make. (sorry no tutorial)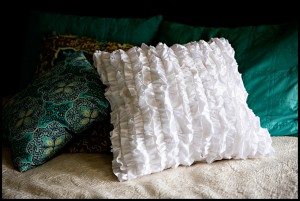 Ruffled Tea Towels
Well now that she is all over the place, she doesn't really like anything on her legs – slows her down. Heaven forbid she crawl around in a plain ole' diaper cover like her brothers did. Well they actually didn't have diaper covers, but we can pretend. Again, no tutorial for this. I feel funny about doing sewing tutorials. I don't know anything technical about sewing so I am afraid to post a tutorial knowing so many great seamstresses read this. Basically, I just cut strips of scrap fabric, folded over the edges, sewed them down and then layered the ruffles on some bloomers I already had.  I did the cutting one night and the sewing in about 20 minutes one morning. Super fast project.
This little thing crawling across the floor is just so much cuter than the diaper.
When I found out I was having a girl (after 3 boys) I talked to a lot of girls I knew that grew up with older brothers. Some had awesome experiences, others not so great. Among the things that stood out to me was that some older brothers gave their little sister a hard time for doing 'girlie' things….like painting fingernails, wearing pink, makeup, etc. It seemed very natural for a lot of my friends to be more 'tomboy' than 'girlie girl' because they loved their brothers and naturally just embraced that. I don't care if my daughter grows up wearing converse or heels. I don't care if she likes hot pink or orange. I don't care if she sews, crafts or hunts. I want her to be who she is uniquely created to be. I do care, however, that her brothers never make fun of her if she does decide to be more of a girlie girl. For that reason, while she is young I am celebrating the girlie girl stuff in an effort to teach her brothers to celebrate her unique role as their little SISTER. So by bringing on the ruffles and letting her brothers see her crawl around in her cuteness hopefully they are learning that being a girl isn't 'gross', but can be pretty cool and special.
I hope while she doesn't have an opinion that her girlie hats, headbands and ruffles will help teach her brothers (and her) that the desire and ability to climb mountains, camp and make the biggest splash in the mud puddle have nothing to do with whether you have Spiderman or ruffles on your rear.
One place I have not attempted to add a ruffle is on my camera…well Shey[B] came to my rescue.  Ruffles on camera straps. CUTE, STYLISH, FUN RUFFLES ON CAMERA STRAPS. Can you believe these things!
She has tons more…not all have ruffles…some would work for you guys out there too. I can't wait to get my strap in the mail, until then I want to celebrate RUFFLES! What is a celebration without a present? Today you can win a Shey[B] camera strap cover!
Visit her blog here and her store here
Contest Details:
Prize is one $30.00 gift certificate to the Shey[B] store
Contest ends Saturday, February 27, 2010 10pm central US time
Winner chosen at random
To enter: finish this sentence in the comment section "I'm dreaming of……."
.
.
For those of you that can't wait to order one, Shey[B] is offering 10% to Under the Sycamore readers. Just type PHOTOG at the checkout!