I mentioned a bit back that I got a new ornament that I just adore…well here it is.  The first giveaway I ever did was a gift certificate to Lisa Leonard Designs and you all loved it. I am not much of a jewelry girl, but I love Lisa's designs….and then I saw her Christmas ornaments. The leaf just seemed perfect for our family this year. I changed the blog name to Under the Sycamore, we added a new branch to the family tree, the font reminds me of an old typewriter…perfect. I couldn't decide what to write on it. I considered our daughter's name or something more traditional. All of our names wouldn't fit. I asked Lisa if she could fit "the campbells * a party of six" – and she did and I love it. Thanks Lisa.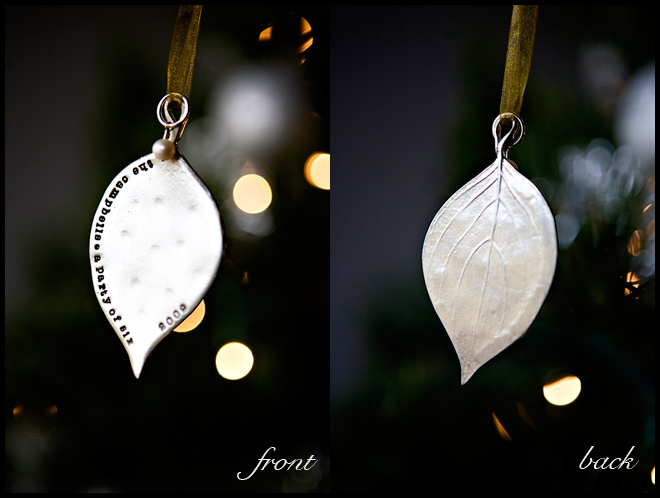 There are about a billion ideas for ornaments out there, but I thought I'd add a few more to the mix. Each year as we take down our stockings we place a note inside each one that lists our hopes, dreams, goals, etc. for that year. Then the following year when we unpack the stockings to display them again we get to reach in and read what we wrote the year before. When the boys were babies we wrote the notes for them, now they are getting older and can help us write out things. I got the idea from a friend at church. Well this ornament is a spin on that idea. It is a basic glass ball but on the inside are notes folded tightly and tied with a string (tying them helps them come out easier). You could write new goals, dreams, hopes, etc on several pieces at the end of each Christmas and then enjoy opening them the next year.  I used Martha Stewart's glue that is designed for glitter to make the letter. It isn't as runny as normal glue. This could also be a cute gift…we did one for a baby shower and wrote hopes for that baby's first year. I'm a fan of meaningful traditions and decorations.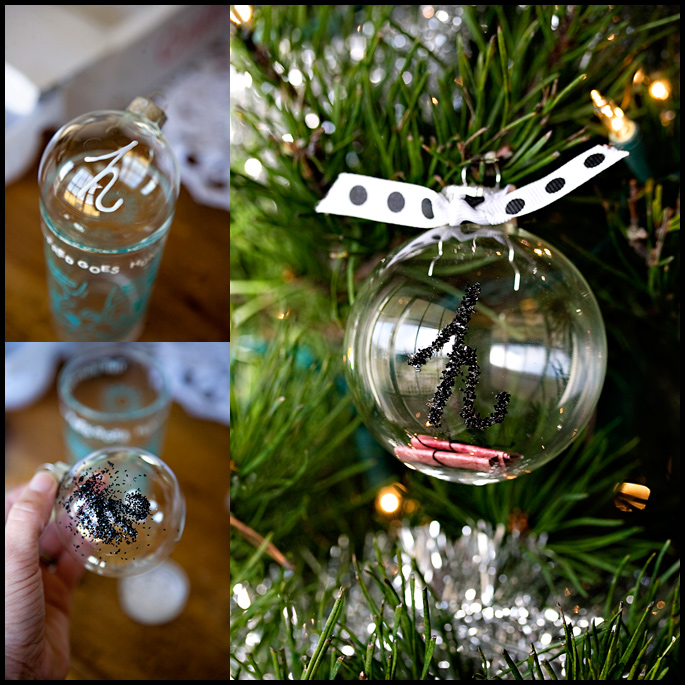 So far I have made one wreath out of cleaner sacks and I am working on a few more. I thought they would make a cute ornament too. I used clear bags, but you could probably reuse plastic bags and it would still look good. I cut mine about an inch wide and 5 inches long…you could make yours bigger or smaller depending on the size you want your ornament. The more strips you use the more fluffy your ornament. I just stacked the strips, tied a ribbon around the middle, trimmed the ends to make them even and then pulled the strips apart to fluff it. If you gather the strips while tying the ribbon instead of leaving it in a neat stack, they pull apart better.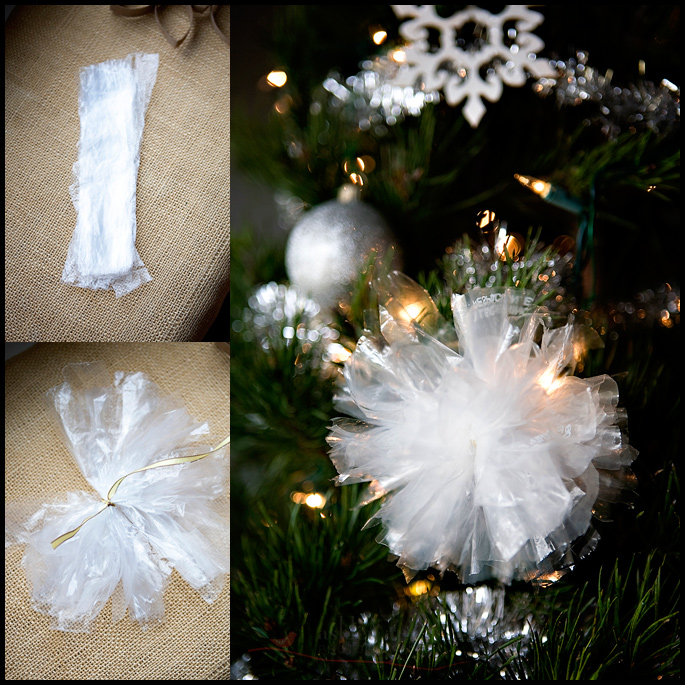 And the last one is for those of you like me that find a few broken ornaments a season…that is why I buy all mine after Christmas for cheap. Instead of tossing the broken glass this year I am going to scoop it all up, break it finer and pour it into another ornament. I think after a few more broken ornaments when it starts getting fuller it will be quite beautiful!
And just because I can't show projects without giving credit to my current crafting partner.
Today is also my dad's birthday…Happy Birthday Dad!
Google Reader is still not picking up my blog…