In regards to your questions from last week's questions…I know there are still some left to be answered. I'll finish answering those next week!
Here are a few answers to yesterday's post: I tried Snapfish & Shutterfly, but was not pleased with the quality. I have considered using a Blurb book – I like the feature of it being able to be larger than 100 pages. Ultimately I went with MyPublisher because of price. The Blurb and MyPublisher books seemed about equal in price until you factor in 50% off or a Buy One Get One Free coupon (which is a big deal when you are ordering around 400 pages total). I always wait to order my albums until I have one of those coupons. They email me one each year around this time. MyPublisher works like Blurb in that you can pull in all the pictures off your computer, but just use the ones you want. I go through and select my pics because I want to tweak the post processing on them before I pull them into the MyPublisher program. I pick the pictures I want based on what I like and what I don't want to forget. I probably only end up using 25-50% of the pictures I take. (I'd like to use them all, but my wallet would not like that). MyPublisher does allow for different themes…including text. I choose not to add text because I like the 'pictures only' look and I would never get the books done if I added text! We keep journals for the kids.
Here is a link to what I do in regards to saving and backing up my pictures.

I went to the store and can you believe for $5.00 I found the PERFECT fabric?!
Perfect for two new pillows that is.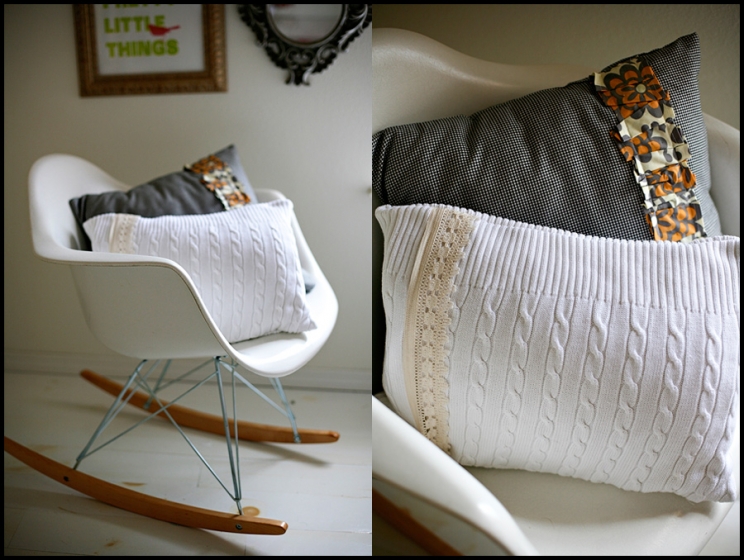 The ability to remove pillow covers is VERY important in my house. Messes happen. Messes happen a lot!
I kept the skirt slit on the houndstooth one and added a vintage button…to allow me to remove the pillow cover.
On the white one I added a flap with vintage trim…to allow me to remove the pillow cover. I like mine better than this $39.00 one.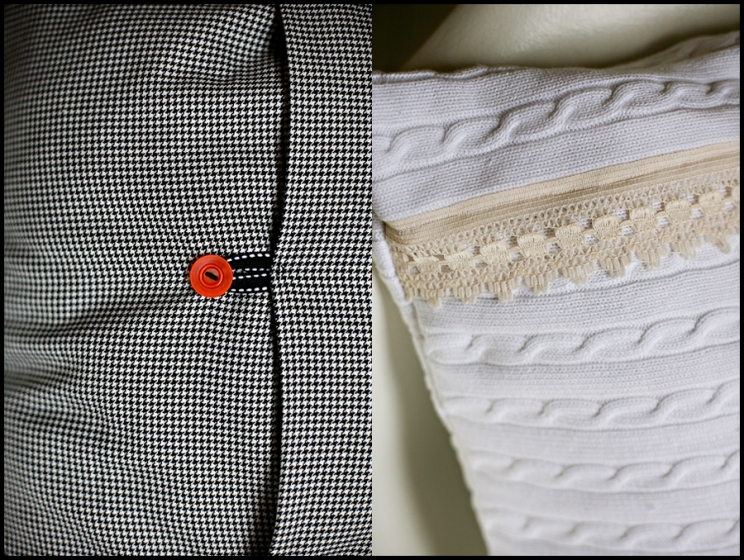 For those wondering why I didn't do a tutorial on this…I don't really know how to sew. I make things up as I go and I usually make a lot of mistakes in the process. I should have done a tutorial on what not to do. For instance, when adding a flap to fold over make sure before you sew it that the flap is on the outside not the inside. Otherwise you have to remove a lot of tiny stitches and that is not fun.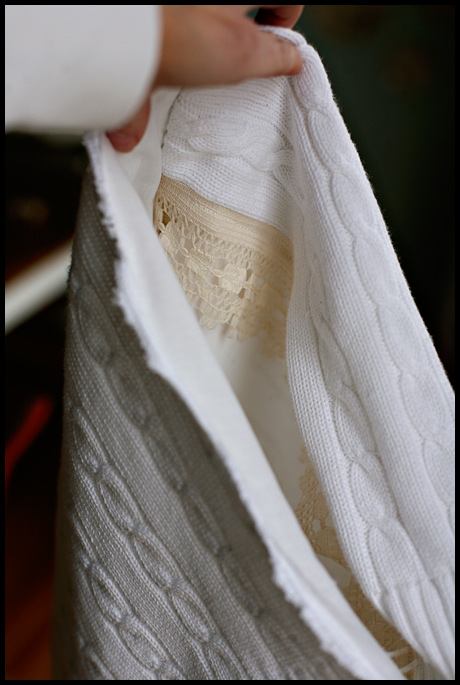 Since I didn't do a tutorial, I did think I'd share a few outtakes from my pillow making process. Looking at the chaos surrounding my projects it makes it seem worth it just to buy stuff sometimes!
I know this is blurry. She was jumping so fast I couldn't get any of her in focus. She likes to jump.
And even now as I try to write this post I have a little one trying to crawl off my bed. I'm tired…
And for my Friday etsy finds….in honor of Valentine's Day
Google Reader does not pick up this blog….don't subscribe.