I did not intend to post any costume pictures from the weekend because:
1. I had 45 minutes to come up with 4 costumes and the end result was a bit hideous
2. I saw too many cute costumes like these…and these…and all of Martha Stewart's
3. There is a false assumption that I would be totally into coming up with unique and cute costumes. The reality is I have no time for that…and I am too cheap to spend much money on it either.
4. I feel very sorry for my daughter…she looked the worse of them all….
However, there are some aunts and grandmas that wanted to see pictures. So here you go. Like I said I had about 45 minutes to come up with something. Chris was gone so that meant I had to find stuff around the house – instead of carting all the kids to the store. Well surprisingly we had all we needed for our very own 80s Punk Rock Band: a little bleach for holey jeans, hair dye and authentic 80s iron on t-shirt transfers….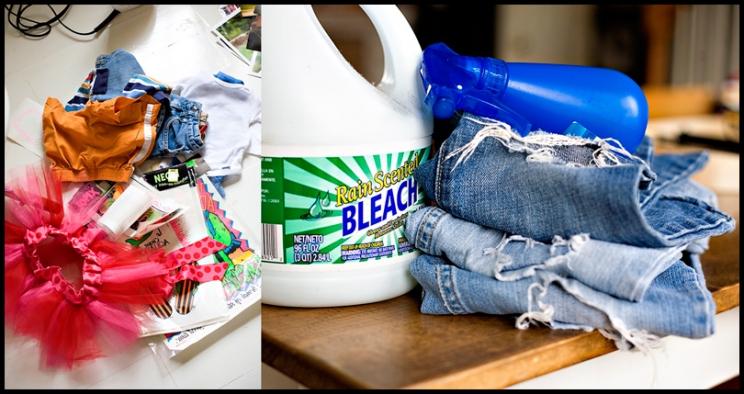 Our church invited kids to wear the costumes on the Sunday prior to Halloween. I added tulle to Sister's bow to make it bigger and more 80s. After about 5 minutes in the church several people asked me where I bought the bow and commented on how they had never seen her so dressed up for church. It was then I realized they didn't know she was in a costume…they thought that was how I dressed her! Did they not see the clashing puff paint cactus and flipflop 80s onesie? Quickly the bow was removed, the tutu taken off and I carried her in a blanket!

These are their "rocker" faces: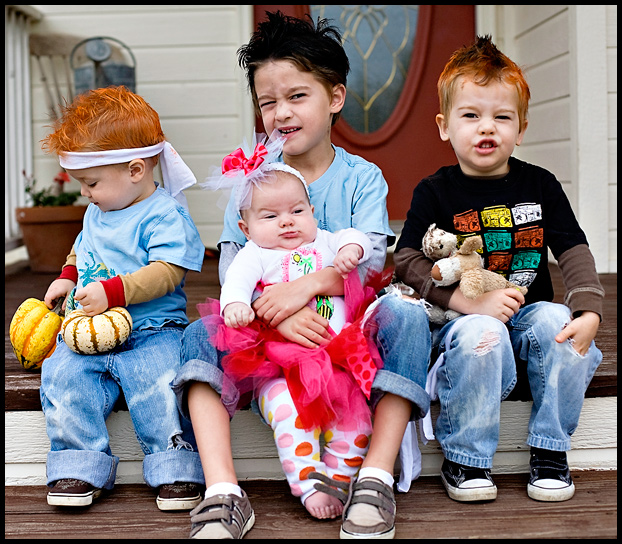 On Halloween Biggest Brother said real rockers have beards…so he asked me to paint some on them.
They had wanted to be Lego Men and were already bummed I said "no" to that…so painted beards they got.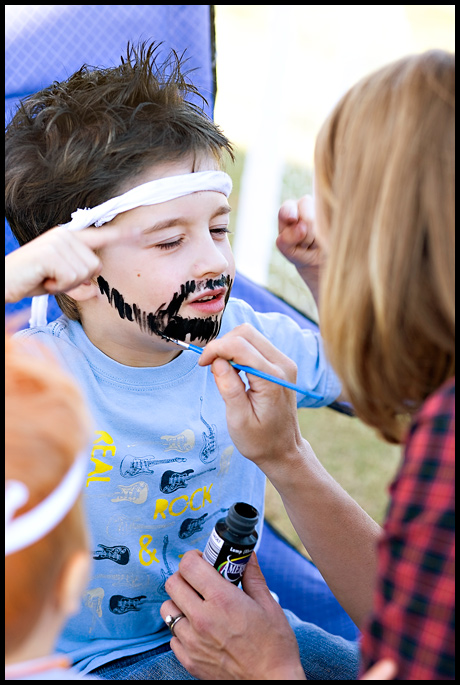 Really….this does look like a costume doesn't it? Granted the tutu is cute, but paired with everything else…not so much.
Because this is how I actually dress her….much more toned down!