Check out Smile & Wave today for a little Valentine's story about Biggest Brother
Since there was so much interest after last week's post on my family albums, I thought I'd do a follow up with the actual albums this week.  They just arrived and I am so happy. I do want to say I am in no way 'sponsored' by MyPublisher, nor are they paying me or giving me free books to post about their product. I am just sharing what I do.
There are so many album companies out there. I am sure there are many that are of better quality than MyPublisher. In fact, the album companies I used for my wedding clients are an example of a MUCH better product. So…if I know there are better ones out there why do I choose MyPublisher for my personal pictures?
1. I ended up ordering 2 100 page albums….this means COST is very important. Since I know I can always get a 50% off or a Buy One Get One Free coupon with MyPublisher – that is a winning point for me.
2. I am very pleased with the quality. Yes, there are other album companies I like, but for the price I am able to pay MyPublisher makes me very happy.
3. I don't have time to write in my books or custom design every page. If I attempted that I would never get any done. So, I like that I can just drag & drop and they have a 'pictures only' template available.
So all that to say I need a fast, easy, affordable album company that has quailty I desire – MyPublisher fits that. In a world where money was not an issue, I'd pay an album designer to custom design my books with top of the line photographic paper….
So…here's some peeks at my books. I do the standard 8x5x11 size, book jacket books.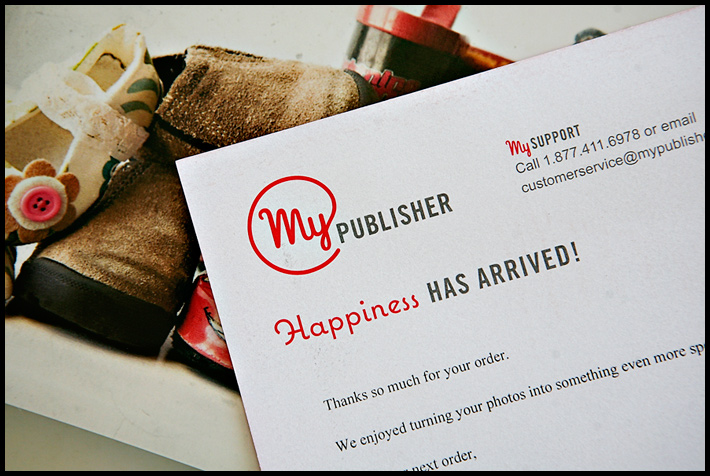 I order two copies because it is very important to me to have a copy sitting out in the living room that the kids feel the freedom to look at without being worried if they accidently hurt the book that mommy will be upset. I want friends to thumb through the books too, but really they are for my kids. The kids put up with my camera in their face EVERYDAY, so I feel like if they want to enjoy the albums they should be able to. If I didn't have a second copy tucked away I would be on edge and grumpy everytime little boy hands grabbed the books.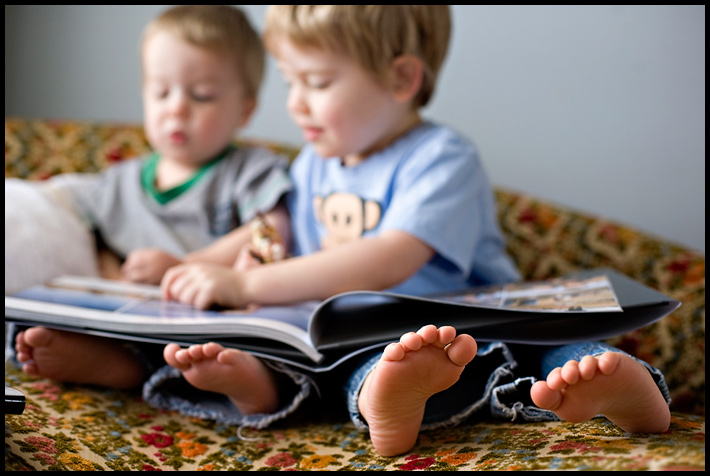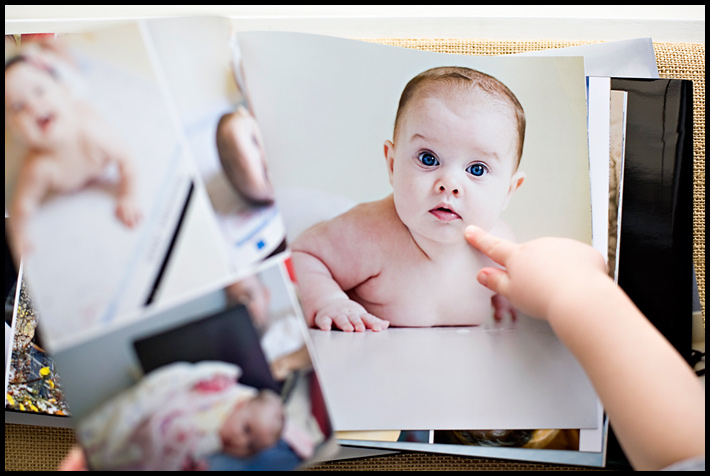 2007 & 2008 albums do not have any tears, smudges – "yes", tears – "no". The boys had only made it through about 10 pages before 2009 got a tear.
Oh well.
"Oops" is worth it. They have so much fun looking back at the previous year. Big Brother 'read' the albums to Littlest Brother.
The picture they are looking at is of Biggest Brother completely naked throwing dirt on me. Yep. We got into a dirt fight last year while digging up the garden area. I put dirt down the back of his pants. He ran to the front of the house (pouting I thought). Then came running back around towards me totally naked with the biggest smile I have ever seen. I was so shocked I didn't even defend myself when he piled dirt on me. We do have neighbors. We don't have a fence.
It is still one of his personal proudest moments…
Big Brother especially likes to do funny things to his own pictures. For instance, making himself eat the plastic looks-like-a-cow-but-it-is-really-a-jaguar-missing-all-the-paint animal. Goofball.
Thanks for all the emails for referrals on my last post,
Here's another Buy One Get One Free coupon for those of you still thinking you might want to try it out:
If you've made it this far on this post, here's a heads up: Next Week is going to be FUN, FUN, FUN at this blog!
UPDATED: Yes, I know my long time blog readers are probably shocked not to see a LOST post today. I am in mourning…mourning the final season…mourning  I won't be home to see it tonight (we live in the stoneage…no dvr or whatever those things are called). Guess I'll be watching it online tomorrow…don't spoil the premier for me!
Google Reader does not 'read' this blog…don't subscribe.