I have so much fun finding out who wins these giveaways (I use a random number generator). Usually it is someone I have never met, but occasionally it is someone I know. This time it is my sweet friend Amanda Weber! Amanda was in the youth group that I volunteered with when I was in college. She and her sister were super tight with their other girl cousins. The relationships that they have as cousins is what I hope my daughter and niece have. I photographed Amanda's wedding a few years ago and it was one of the greatest honors for me. While I was in college I watched her transition through high school and become such an incredible young woman. She and her cousins (and another friend) came over to my little dorm room, apartment and then house once a week during part of my college years – some great memories there.
Congratulations on becoming an aunt and on winning the Leyton Smiles blanket. Here is what Amanda wrote: "I grew up with aunts around all the time. We always did so much stuff together as an extended family! It is great having an aunt only 7 years older than me. She always took us to stuff our parents wouldn't. I too just found out I am going to be an aunt… not sure if it will be a neice or nephew yet, but I look forward to it! I think your neice should call you "Aunt Corbie", although with C around it might be kind of strange!"
"Corbie" was the nickname the girls called me back then (a shortened version of my maiden name)
I really enjoyed all the comments you wrote about your aunts and the things you do as an aunt. You gave me some great ideas. I do already have 8 nieces & nephews on Chris' side…this will be my first on my side. Reading all your stories made me want to share a bit about one of my aunts. My Aunt Sandy (or Grannie Sandy as my kids call her) was my only aunt to live nearby while I was growing up. Lesley (my sister) and I spent tons of time with crazy Aunt Sandy. Some of my earliest memories with her involved lots of cowboys. She was single and a big fan of George Strait. She'd pack Lesley and I up and take us to local rodeos. It was at those rodeos she taught us the phrase, "Wrangler Butts Drive Me Nuts".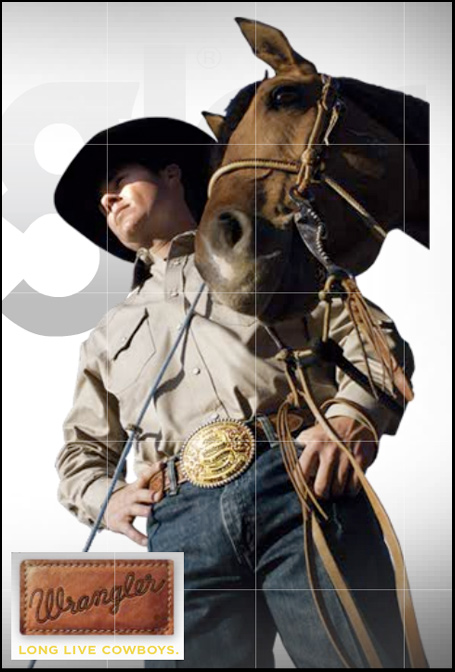 Sounds like something an aunt would teach! Well she found her a pair of Wranglers (actually it was more the shirt that was worn with the Wranglers) she liked and liked the guy in them even better…married my Uncle David (DaveMan as my kids call him). My Aunt Sandy is loud and wild and fun and colorful. She started a business a while back making custom motorcycle chaps – Hawg Hugger Leather. Her business took a break as she fiercely fought and BEAT cancer 3 times. She is a force to be reckoned with. You can't tell too well, but in the picture below she had my sister draw her Hawg Hugger logo with a sharpie on her newly bald head. Fighting cancer with attitude…that is my aunt.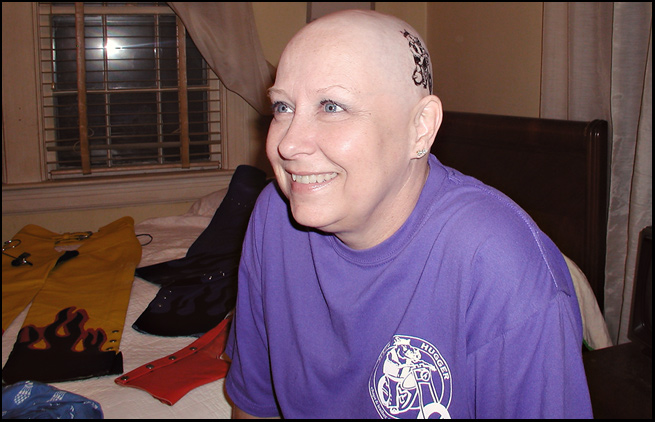 I've been searching through files to find some pictures of her on her boat with my kids…can't find them. So I stole one off her facebook account (just fyi I don't have a facebook account…I get on Chris' if I need something…no I don't plan on getting one soon). That is Big Brother in the background.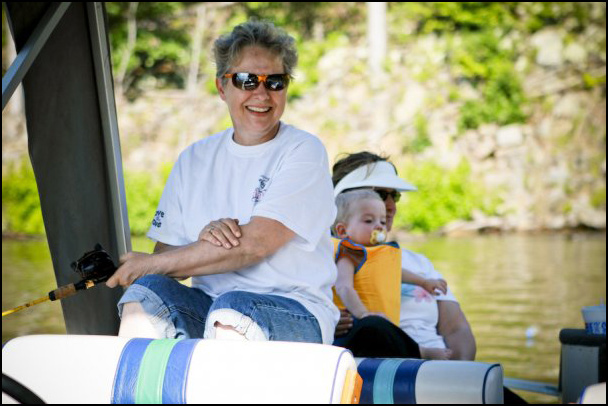 While on the mend from all that several battles with cancer entails, she took up quilting and embroidery. Each of my kids have beautiful quilts custom made for them. She got kicked out of her junior high Home Ec class for telling the teacher "my mom knows more than you do" in regards to sewing. Did I mention she is a bold…tell it like it is kind of girl. Love her!
My kids and some of their quilts….oh yes, there are more!
My Aunt Sandy is a great example to me of what a great aunt is. I love her deeply.
And just a random pic that makes me laugh.
I'll be back tomorrow with Lego party overload. You know when you go to the beach you keep finding sand in all sorts of places.
Well after a 6 year old Lego party…I'm finding Legos in all sorts of places.
Happy Monday