UPDATE:  For a tutorial on my doily table runner click here
Well I guess this is turning into Baby Sister week on this blog…she does have 3 older brothers…they just move too fast…and I am tired of LEGO pictures. So I've been putting off giving Baby Sister her first meal that wasn't supplied by me. I mean I already: prepare 13 plates of food a day, clean up those 13 plates, wash 9 faces and 18 hands a day . I was not wanting to add anymore hands, faces or dishes to the mix. Well not only did she turn 6 months old, but she was also turning into a goat – trying to eat everything in sight. So I grudgingly accepted that it was time to introduce cereal. Now this process was delayed a bit. Breakfast time is crazy, Chris is gone at lunch and it is dark when Chris gets home. All that just means the only time there is natural light and a husband around to help was on the weekend. So Goat Girl had to wait until the weekend for her first cereal meal, so her mommy didn't have to use her flash. Just letting you know.
My goat is cuter than Grandpa's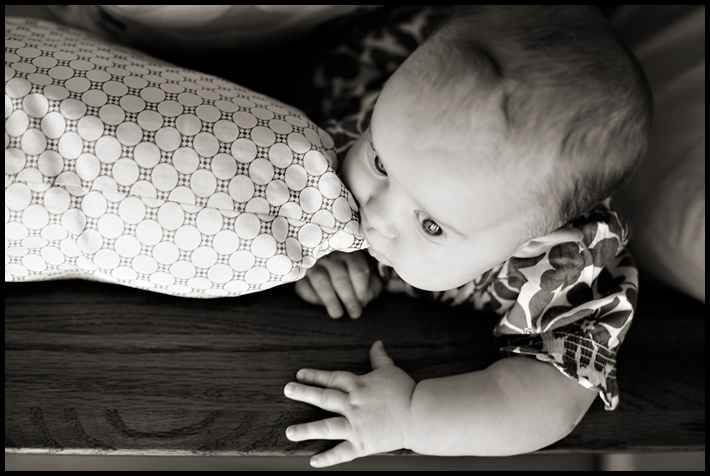 Hello! Do you see that tongue?!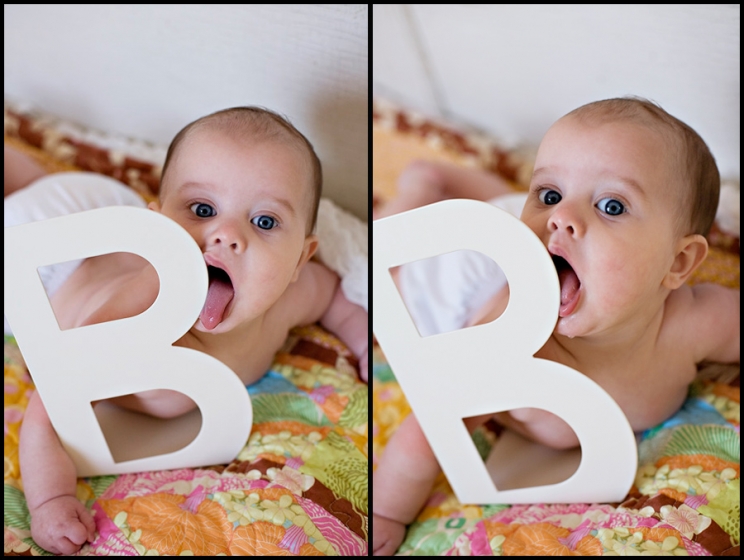 Well the big day came and we sat the bowl on the table. Littlest Brother started to get into it, so I moved it out of the way. While I was getting the camera ready, big boys snacks and teaching Biggest Brother how to record video….this hungry girl somehow grabbed the spoon and just started feeding herself. I went to get the spoon to start feeding her and realized she already had it!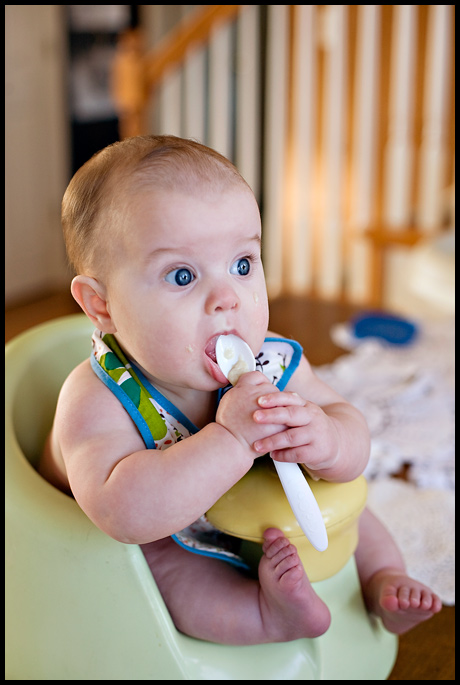 We re-adjusted…and took the team approach. I had the camera, Biggest Brother on video (our video camera died, so we had to use the p&s), Daddy feeding.
She did not spit one bite out. If you have ever introduced food to a baby you know it is pretty common for them to spit some just because they are trying to figure things out. Not my girl. She did still get it all over her face due to trying to grab the spoon with every bite to feed herself.
Again with the long tongue.
And then she was finished and daddy walked away. What can I say, she likes food and was sad to see it leave. I understand baby…I feel the same way.
Then Biggest Brother showed her the Cheezit box. I told him that was mean. You'd think by this face she knew what Cheezits were!
She has since slowed down and is in the normal baby routine of spitting out most of what she eats….bummer.
Google Reader stopped reading my blog…don't subscribe