Before I get to the DIY portion of this post I have to brag on my older two boys. They were very stern with me that they needed to go buy their sister a present for her birthday. Biggest Brother wanted to get "a pretty dress, not a pretty pretty dress like with sparkles and shiny stuff, but just a pretty dress." I took the two of them to Target and they looked at EVERY SINGLE dress in the baby section. We narrowed the options down to about 6. I hung all 6 from my arms and chest as they stood in front of me discussing the pros and cons of each dress. Eventually they settled on this one. They have good taste. They wanted her to wear it on her birthday. They are great big brothers…they kept telling her how beautiful she looked in her dress. She is loving walking these days (the pic is a bit blurry..she's on the move now!)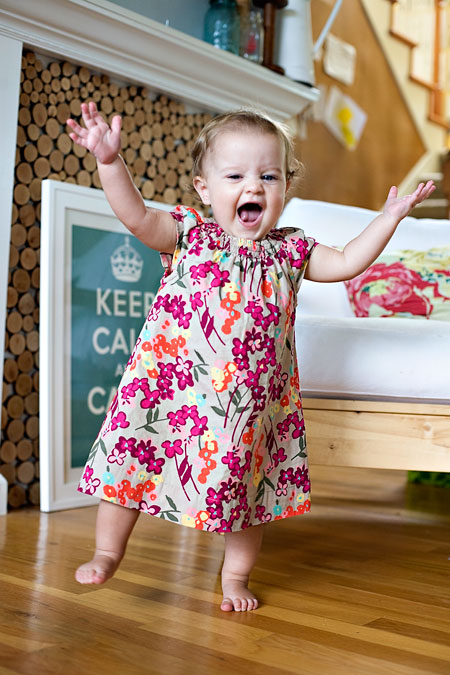 They also wanted to get her a toy and it took them no time to decide on one. They said every little girl needs a doll and a stroller for her doll. I love that they are celebrating that she is a girl. She likes the stroller best without a baby in it. How is she already one? How did dolls and baby strollers end up in my house? When did a cute thing in a flowered dress become more of a toddler and less of a baby?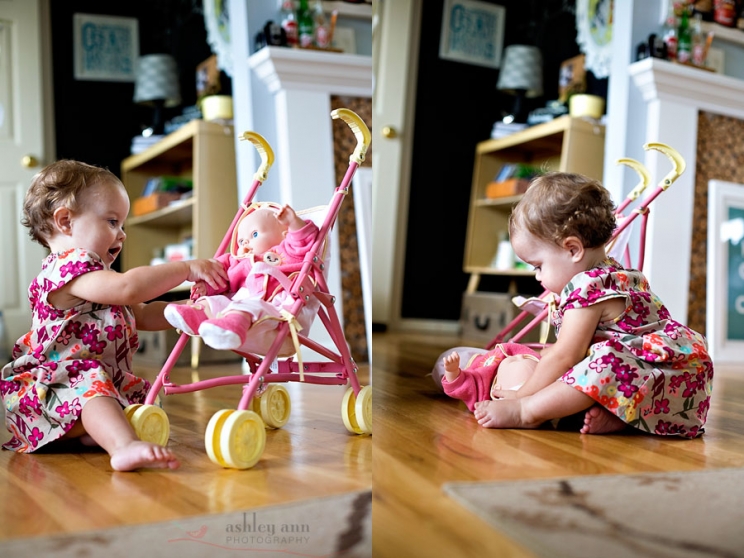 And IN TOTALLY DIFFERENT news, I thought I'd share a little DIY on a way to customize your swimsuit…since it is summertime!
Supplies:
One cloverleaf shaped swim tube…should hold 4 people with spots for their booties to sit in
4 individuals ages 8 and up (I opted for two 10 year old boys and a 13 year old girl)
Waterslide with a LARGE drop off
Step 1: You need to be visiting a waterpark that is also a hotel. The first step is to get up early and put on your swimsuit. Then rush out of your hotel room (leaving hubby and kids behind) so you can be at the door waiting for the park to open. By being at the front of the line you only have to outrun preteens to be on the adult slides first. Once you make it to the slide, pick three random kids to ride with. They make look at you like you are crazy, but just go with it.

Step 2: Postition yourself on the cloverleaf tube. When the tube begins the giant fall allow your booty to slip through the hole just enough that it hits the fiberglass BEFORE the tube. This step does hurt quite a bit. In fact a week later you may have an x-ray done of your very bruised booty…but don't worry the x-ray will show you didn't break anything.
Step 3: After spending the rest of the day walking around the waterpark chasing your kids it will be time to dry off and head back to the room. When you start drying off your booty, you will realize that first slide of the day resulted in a diy customized swimsuit….one that everyone at the waterpark got to enjoy seeing.
.
.
.
.
Yep, hole in the booty of my swimsuit….and I didn't know until the end of the day. Nice.