When I started SnapShops nearly six years ago, I had no idea I would eventually get to know some incredible photographers who also teach various photography courses. Both of my SnapShop workshops (the phone and DSLR versions) are intro courses. I wrote both with the beginner in mind. Over the years, students have asked me about offering more advanced courses, but that just has not been on the horizon for me. As a result, it is important to me to find other workshops I can recommend to my students.
Karen Russell's photography workshop (and lessons) are among my favorites to recommend students. Several of my SnapShop students have taken her workshop and have raved to me about it. Well, Karen just released a PDF consisting of an in-depth discussion on Focus. She sent me a copy…and it is IN DEPTH. Several of the topics I touch on in my DSLR SnapShop course are included. I touch on the topic (like an airplane view), Karen dives crazy deep into the same topics (like a bug's view).
So, for those that have a basic understanding of shooting in Manual, but want a better understanding of all that it takes to make a super sharp – in focus- shot, I highly recommend this course (139 page downloadable PDF). It is so good…and Karen is not paying me to say that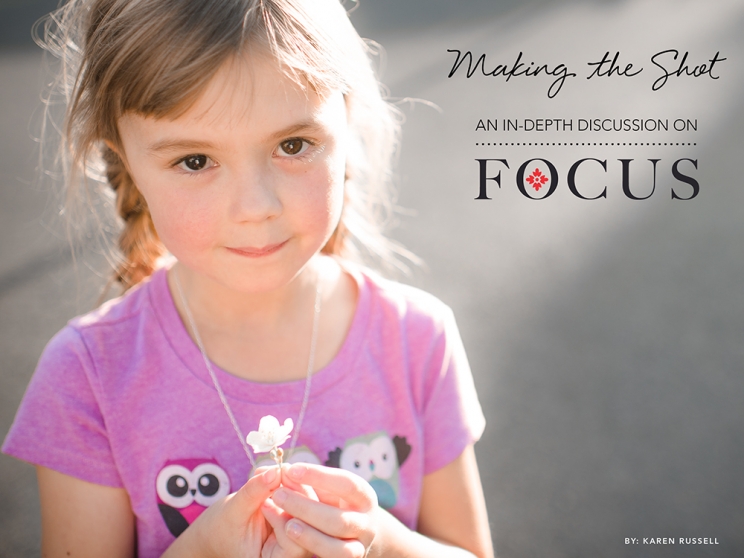 "Making the Shot Three: An In-Depth Discussion on Focus is an advanced photography course devoted solely to the topic of focus. This issue defines the difference between tack-sharp, adequately sharp and soft focus and discusses in great detail how cameras and lenses, lighting and contrast, autofocus settings and a proper focusing technique each play a critical and combined role in creating the sharpest image possible, straight out of the camera. This issue includes three step-by-step testing guides, ten comprehensive case studies, an entire section that the topic of how and why you should be Back-Button Focusing, and every ounce of knowledge Karen has (and then some!) about focusing."
Here are a few screen shots….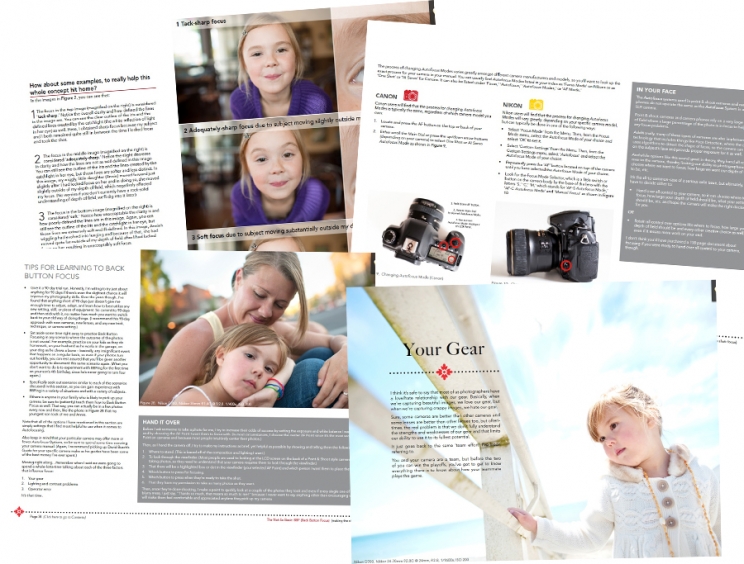 This is a downloadable course (a 139-page PDF and over six hours of audio) with the option of purchasing and participating in a two-week, online Q&A forum where Karen will be answering any and all questions related to the topic of focus from June 16th – 29th, 2014
In the past, issues of Making the Shot have only been available to students of The Photographers' Workshop, so this is the first time Karen has released an issue of Making the Shot to the general public.
Cost details: $55 (PDF + audio) or $75 (PDF + audio + 2-week Q&A Forum). Past students of The Photographers' Workshop will receive a $20 discount off the price of the PDF.
To purchase Making the Shot Three: An In-Depth Discussion on Focus, click here.

So….Karen is letting me give away three copies of her PDF (big week for amazing giveaways on my blog!). Below are the details.
Giveaway:
3 copies of Making the Shot Three: An In-Depth Discussion on Focus
3 winners chosen at random
(If you purchase a copy and then win one, Karen will refund your purchase)
Giveaway ends Monday, April 14th 8:00pm US Central
To enter: leave a comment on this post
THIS GIVEAWAY IS NOW CLOSED