I had zero plans on posting about this, but a friend told me it would be a good idea. I recently shared with her a 'proposal' my boys wrote and my counter offer. With her suggestion, I'll share it here today for those of you that might be in the same boat. This boat is called 'My boys want to play video games all the time and it makes me crazy!"
My boys know I have zero tolerance or patience for the behavior that can result from their video game time. My kids get a limited amount of tech time each day…iPads, Netflix, etc. I'm not anti-technology, but I am not a fan of a lot of what happens in our home as a result of technology some days. I would rather hear "I'm bored" ten times a day than deal with the arguments that result from tech time.
All that to say, my boys have been wanting an Xbox. Sitting at the table eating breakfast one morning, a paper was slid across the table to me. It was titled, "Our Humble Proposal". I started to read it, but the font size was HUGE. The grammar scary. The punctuation atrocious. (this coming from a mom that isn't great at those things anyway – it was that bad!) So, I slid it right back across the table and told them they had a lot of work to do before I would read their proposal. Inside I was smiling at their joint effort.
A few drafts later, and with some help from their video game loving dad, the proposal was in an acceptable form.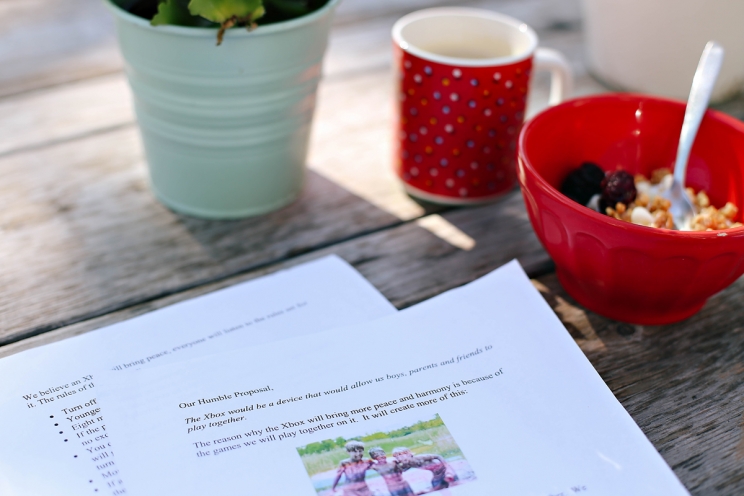 Together they drafted rules. As I read through their rules it was evident they were thinking, "What makes mom the most upset? Let's write rules to avoid those things." I was pretty impressed with what they came up with and the joint effort they put into their entire plan for convincing me to let them buy and Xbox.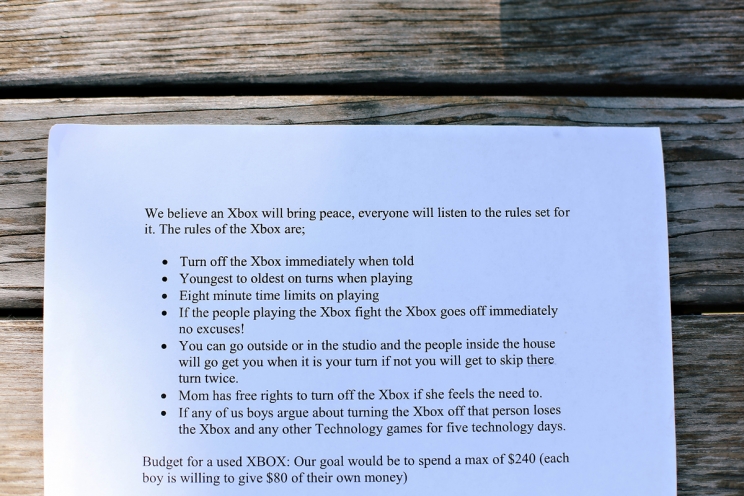 After making them sweat it out a week, one morning I slid my counter proposal across the breakfast table to them….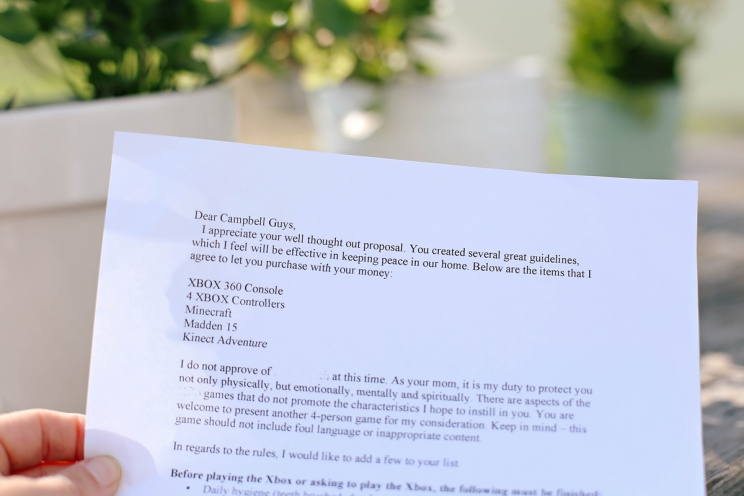 I've already used the "Mom has free rights to turn off the Xbox at anytime" several times. And a few times certain boys have lost their privilege of playing. However, overall their proposal has been working out well for all. I'm not sure that it has brought more peace and harmony to our house, but they are making a valiant effort.
I'm sure the rules will change. We will all learn and grow a little from this. Do any of you have tips or tricks that help you navigate video games in your home? Share your knowledge!