As I was just about to board the first of many flights to finally arrive in Ghana, Chris sent me a text with this picture: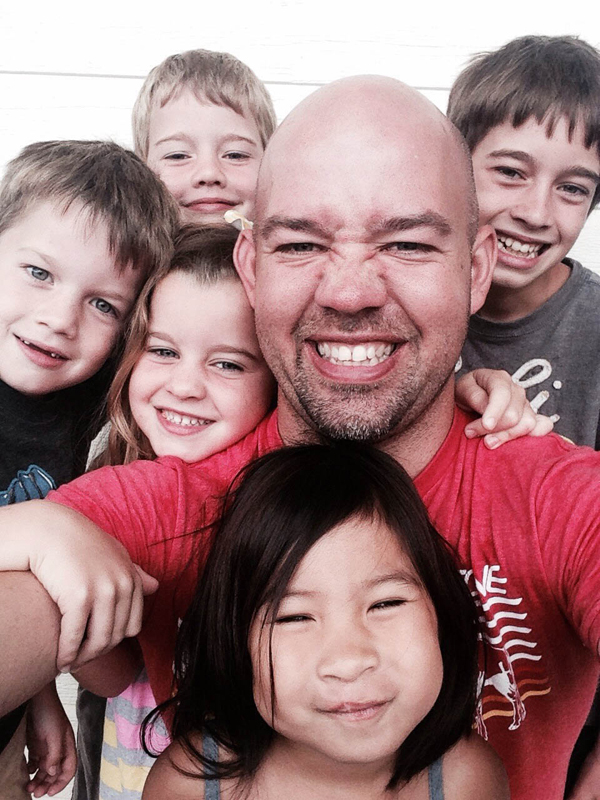 And my heart melted. There they were…my people with big smiles. Leaving the country for 10 days would not have been possible without Chris' support and excitement. I knew he was going to miss me, but I also knew he was thrilled this moment had finally come for me. He was there by my side 14 years ago when a trip to Kenya fell through and I was brokenhearted. He was there when opportunities came but schedules or other commitments prevented me from being able to say "yes". And he was there this time when I boarded that plane and when I arrived back home.
My group….Jena, Andersen, Hayden, Cindy, me, Denise. We are sporting gifts from Ghanaian friends. Cindy and I have worked with Denise on a local women's event called The Christmas Gathering for several years now. In recent years, Denise formed a beautiful friendship with a Ghanaian pastor and has used proceeds from The Christmas Gathering in a partnership with her Ghanaian friends.  While in Ghana we got to see a bit of what that partnership looks like.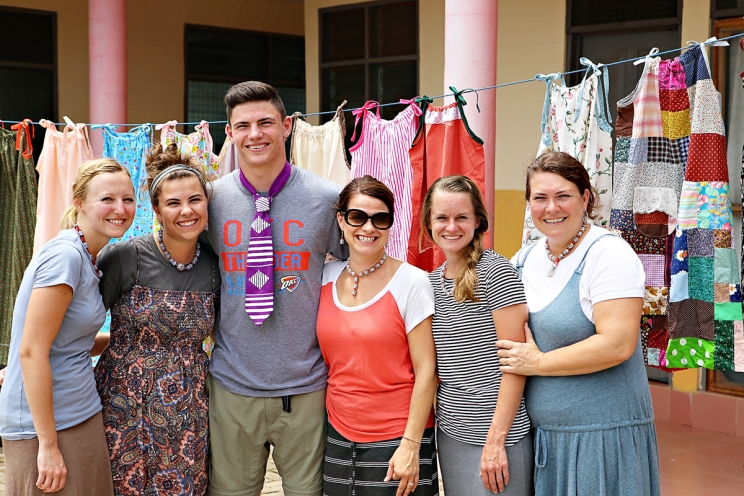 We began the trip at a vocational training center for girls. The center is a home for girls that often don't have any other options. They are provided a safe, loving home and an education. The home is run by Reverend Grace – a powerhouse christian Ghanaian woman, who has great dreams and visions for the futures of her girls. Some of the girls were rescued out of shrines where they had been given as young girls to pay off a family debt. Some have no families. Some are brought by parents desperate to give their daughters a chance. Each girl comes with a different story.  For many of the girls, their pasts are horrific, but their present is breathtaking.
Reverend Grace is on the right in the colorful dress….she is playing the air trumpet to the complete delight of her girls.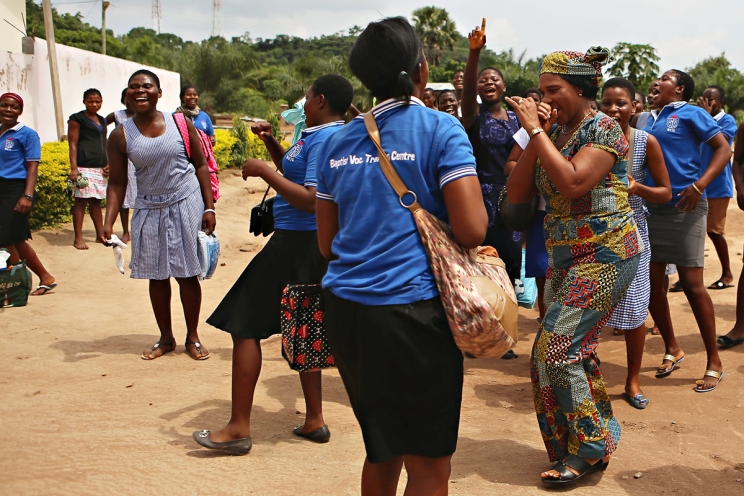 And Reverend Grace teaching the girls a little jump rope action. One thing that really stood out to me was the strong, fierce love Reverend Grace has for her girls. Her deep love is returned by the girls. They absolutely light up in her presence.
The center is painted several shades of yellow and pink. At one time the paint was bright, but the sun has faded the colors a bit. It was the perfect fade to me…I told them so many times how much I love the colors they chose to paint their home.
The center includes opportunities to be trained in a few vocations. We were there on a Sunday and one of the teachers' kids were running around. Nat is eleven and once I showed him how to use my camera, I wasn't sure if I would ever get it back! He took so many pictures of his mom, sister and our group. I told him I would get prints made and mail them back to him. As he shared his interests with me, it was so fun for me to get to share my interests with him. Such a cool young man.
One of the things we did while at the center was help with with some painting projects. You know I love to paint a wall…so does my friend Cindy. I don't think any of the girls had ever painted before, so there was a lot of laughing and paint dripping going on in this room. Once they painted one wall, they were ready to paint everything. They wanted a fresh coat of pink on the columns outside, but the town didn't have any pink paint in stock. They'll paint those later, but I sure would have had fun doing that with them!
Painting with Cindy….we have painted a lot of things together over that last 10 years. We've painted in a lot of places together over that time. Painting with the girls in Ghana…pretty sure that tops the list.
In 2009, I was pregnant with my first daughter. As I waited anxiously for her arrival, my mind often wandered to all the little girls (and boys) who would grow up without mothers due to diseases like AIDS and malaria. I thought of all those moms and my heart broke. In a feeble attempt to honor those moms, I invited some friends over around Mother's Day to use our hands to create gifts of love for little girls who could no longer feel the warmth of their mother's embrace. We had a brunch and then got busy making pillowcase dresses for Little Dresses for Africa (LDFA). I hung the dresses out back on my clothesline, that picture is still featured on their website.
It was a full circle moment for me when I got to stand in Ghana and share dresses that others had made for LDFA. So many dresses (thank you to those of you that make larger size dresses!) for my new friends. A handmade gift speaks love in a way that transcends culture.
After working alongside the girls on a few projects, we sent them away for a bit so we could surprise them with a few things. We were waiting for their arrival inside the courtyard when we heard singing in the distance. We ran out to see them coming up the road…singing and dancing.
Then the second wave a girls started coming up from the main road and it began like a singing/dancing show down. It was awesome.
I need more singing and dancing in my life. The Ghanaians know how to celebrate in the every day. I feel so fortunate to have been given the opportunity to learn from them and be loved by them.
The girls are working hard to build their futures. Reverend Grace has dreams of opening a restaurant where the girls that are learning to be caterers can work. She is also dreaming of more classrooms so the current classrooms can be converted to bunkrooms to make room for more girls. Building takes a long time, they will work slowly towards their goals – finishing the classrooms and the restaurant as they are able. In the photo below, you can see the start of the new classrooms and the restaurant (blue roof).
The girls taught me so many things while they welcomed me into their home. The joy that overflows out of them is contagious. They let us come in alongside them and share in their joy. They taught me a whole host of practical things, but mostly they taught me what redemption looks like. If you met them, you would never dream the horrors they have faced. They don't dwell there. Their faces are not downcast or broken. Instead their smiles radiate and you can't help but smile too. They are the kind of women you want to spend all day with and you hope just a bit of them rubs off on you.
Before we said our goodbyes, I found my friend Andersen being taught a new song. "You don't have to worry and don't be afraid. Joy comes in the morning, trouble stay away, for there is a friend in Jesus who wipes your tears away and if your heart is broken, just lift your hands and say, I know I can make it. I know that I can stand. No matter what may come my way, my life is in your hands. With Jesus I can make it. With Him I can stand. No matter what may come my way, my life is in your hands."
Though my time with them was short, these girls taught me that sometimes redemption looks like a warm, welcoming smile that invites others in…and makes them smile too.