It has been a little while since my last totally random post. I guess it must be time again because that is what I've got today. I think I'm having some post-travel nesting going on in me. Spray paint, chalk paint, saws, nail guns – we've been putting them to use.
I replaced the old hutch in my 'fake kitchen' in the studio with one given to me by my mom & aunt. It is so perfect. I just sit and stare at it…and re-arrange it a lot because I can't get it to look right.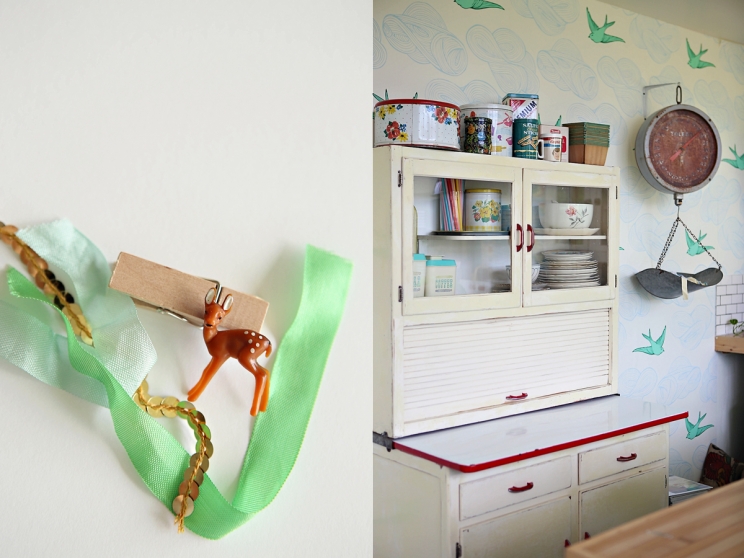 I decided to clean up the pottery corner. Let's all look at these pictures and pretend that once a week my homeschooled kids sit at the wheel and throw beautiful coffee mugs and dishes. The reality is I forgot how to use the kiln and have not set down to watch the instructional dvd that will insure I don't blow up my house when I fire our pinch pots. This semester it is happening. "It" being we use the wheel and kiln, not blowing up my house. The print is from Fancy That Design House.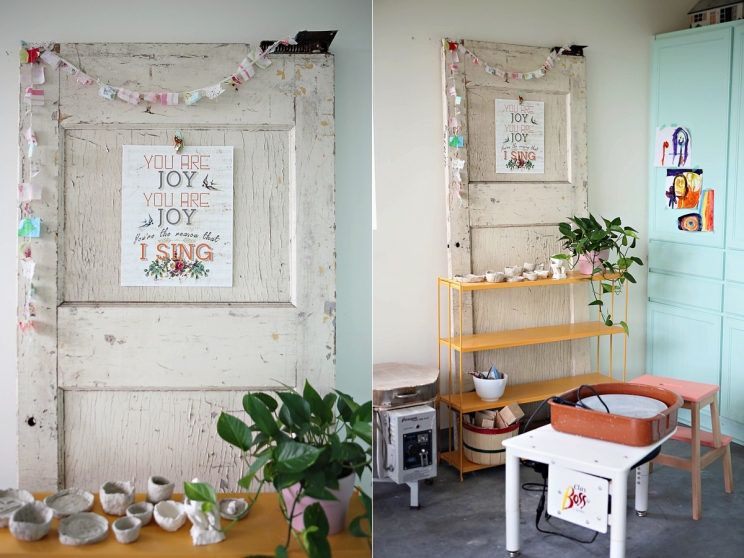 Do you remember our fabric wrapped canopy guest bed? Well, I decided to move it.  It was too tall for where I wanted it, so we had to use pipe cutters to cut off the canopy. As a result, I decided to take off the rest of the fabric and paint it green. I'm thinking I'll keep wrapping it in lace in random spots. I also moved the globes out of my kitchen….not sure where they will actually end up.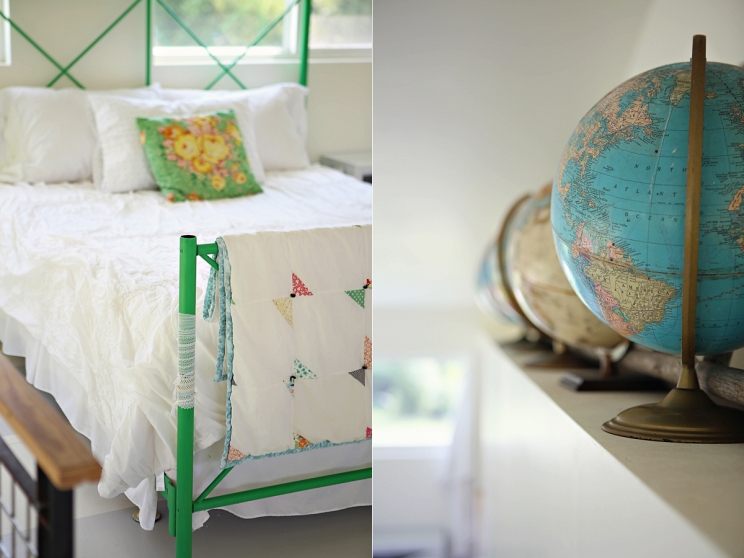 We are building 2 new tables for the studio….hopefully I will finish them today and can post more about that project later this week.
"I'm bored." Well, darling I have a solution for that….
Go look at the "Bored Poster". I found this print while roaming pinterest one night. It is from the website Modern Parents Messy Kids. You can download it here for free. I printed mine on cardstock and laminated it. It now hangs in the studio and I just point towards it when someone approaches me with the word "bored". We started using it this week…so far so good. And on a TOTALLY random note…have you seen the Rinse and Reuse Lint Rollers from Scotch Brite? This is in no way an ad, I have no affiliation with Scotch Brite, I just feel the need to pass along this goodness. I use lint rollers quite a bit because I was conned into getting a cat a few years ago. I lint roll my cat. She likes it, I like not seeing her hair. Anyway, I picked up this reusable one at Target just to see if it would work…and it is awesome. If you need something to pick up pet hair or kid dirt…go buy one. It also works great with the "D" on our Bored Poster. I tell the kids they can go lint roll the cat or furniture for me….