Today's prompt was "Creative".
(click here to read more details about Embrace the Camera Challenge)
I almost sent Emily a text last night to tell her we should change it. I felt overwhelmed by the prompt. I felt like there was pressure to come up with some kind of awesomely creative image and it just wasn't happening. It made me think about what creativity looks like….it looks like the mom that that figures out her toddler will eat the peas if she makes a silly face first. It is the college student that finds a way to complete a degree while spending summers overseas. It is the dad who comes creates the football play that helps his kid love the game. It is the artist. The inventor. The scientist. The parent that devises a solution for getting all the laundry put up! Creativity is not something bestowed on only a few. I truly believe we are all born creative…we just grow up and decide to label only a few that way.
All that to say…I took the pressure of myself. I didn't create an image I would call 'creative'. Instead I captured someone who endlessly inspires me with her creativity. My sister. She is just as creative with a pencil and sketchbook as she is with spices I can't even spell. Today we celebrated our birthdays with family at our local donut shop. It is a family tradition my grandparents started.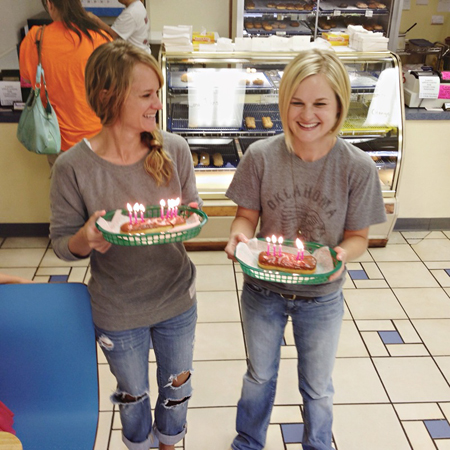 Her birthday was last week. My birthday is next week. I am two years wiser.
Tomorrow is the last day of the week long Embrace the Camera challenge.
Tomorrow's prompt is: FACES (be sure to include yours!)
Join us by taking a photo tomorrow (that includes your face), post it to your blog or share it on Instagram with the hashtag #embracethecamera
After last year's Incubator Project, you all know what a big fan I am of Love Without Boundaries. November is Adoption Awareness month and LWB is selling shirts until Oct. 23rd. Half of the proceeds from the sale of these shirts will be given to the Dave Thomas Foundation, which works to help children in U.S. foster care find permanent homes. The other half will be used by Love Without Boundaries to help orphaned children overseas get the healing they need to be chosen for adoption.